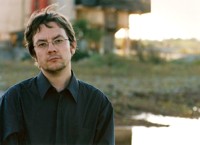 Gašper Malej was born in 1975 in Koper, a town in the bilingual environment of Slovenian Istria where he still lives and works. He graduated in comparative literature and literary theory from the Faculty of Arts in Ljubljana. He is self-employed in the field of culture and writes poetry, short prose, literary reviews and essays which are published in Slovenian cultural magazines, daily newspapers and other media. His main activity is translating contemporary Italian fiction (poetry, narrative, drama and essays), having published translations of authors such as Cesare Pavese, Antonio Tabucchi, Dario Fo, Pier Paolo Pasolini, Andrea Zanzotto, F. T. Marinetti, Eugenio Barba, Pier Vittorio Tondelli, Dino Buzzati, Franco Loi, Alda Merini, Paolo Ruffilli, Edoardo Erba and many others. He is a member of the Slovenian Association of Literary Translators (DSKP) from 2000. His collection of poems in Slovenian Otok, slutnje, poljub (Island, Premonitions, a Kiss; Publishing House ŠKUC – Lambda, Ljubljana 2004) was nominated for the "Best First Book" prize at the 21st Slovenian Book Fair (2005). Furthermore, he works in the field of theatre, especially as dramaturge and author of stage adaptations. In 2006 he was awarded with a one month's residency in Helsinki as part of the "Sealines" international literary project and was consequently invited to the 23rd Lahti International Writers' Reunion (2007). In academic year 2007/08 he enrolled in postgraduate studies at the Faculty of Arts in Koper and is conducting a research leading to doctoral thesis on the anthropology of translation.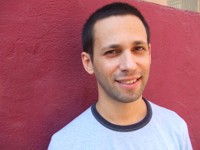 Lawrence Schimel was born in New York City in 1971 and has lived in Madrid, Spain since 1999. Writing in both Spanish and English, he is a prolific author and anthologist who has published over 80 books in many different genres. He has edited two anthologies of gay poetry: one in Catalan, Ells s'estimen. Poemes d'amor entre homes (1999), and one in English, Best Gay Poetry 2008, the first of an annual series. He has published translations into English of the gay Spanish poets: Luis Antonio de Villena, Luis Martínez de Merlo, Jesus Encinar, and Luis Cremades, among others. He has published one collection of poems in English, Fairy Tales for Writers (2007), with a French translation forthcoming in 2009. His anthology PoMoSexuals: Challenging Assumptions About Gender and Sexuality won a Lambda Literary Award. Some of his other books include, for adults: First Person Queer (2007), The Future is Queer (2006), Two Boys in Love (2000), His Tongue (1999), The Drag Queen of Elfland (1997), Found Tribe: Jewish Coming Out Stories (2002), Kosher Meat (2000), Vacaciones en Ibiza (2003); and for children (all illustrated by Sara Rojo): Amigos y vecinos (2005), La aventura de Cecilia y el dragón (2005), ¿Lees un libro conmigo? (2005; chosen by IBBY for Outstanding Books for Young People with Disabilities 2007), No hay nada como el original (2004; chosen for the White Ravens 2005), etc. His writings have been published in Basque, Catalan, Croatian, Czech, Dutch, Esperanto, Finnish, French, Galician, German, Greek, Hungarian, Icelandic, Indonesian, Italian, Japanese, Polish, Portuguese, Romanian, Russian, Serbian, Slovak, and Spanish translations.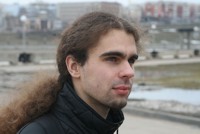 Valery Ledenyov was born in 1985 in Moscow. He graduated from Moscow State University of Pedagogics and Psychology and also studied psychoanalysis of Jacques Lacan. Now he works as editor at the Internet portal of Russian writers "New literary map of Russia" (litkarta.ru). He attended poetry seminars organized under the aegis of Debut prize (Russian literary award for young authors), and his poems were included in long-list of the prize. He participated in a number of Russian poetry festivals and published his own poems and translations of present-day American poetry (D. Nurkse, Ph. Nikolayev e.a.) in "Vozdukh" magazine and different almanacs. The first collection of his poems "The Smell of Polygraphy" appeared in 2008, and selected poems of young American poet Peter Golub in Ledenyov's translation were published in 2007 under the title "My Imagined Funeral".