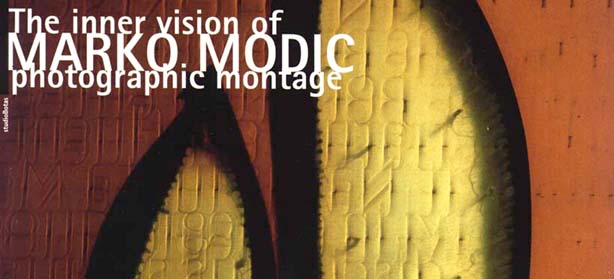 Dates:
28 March - 29 April 1996
Venue:
Foyer Gallery, Ground Floor, Barbican Centre
Opening Times:




Monday-Saturday 9.00am - 11.00pm
Sunday 12 noon - 11.00pm
Closed from 3.00pm on 19,22,25 March
and all day on 10,11 & 17 April
Admission:
FREE
"The Inner Vision of Marko Modic" - a striking photographic montage by the established Slovenian photographer Marko Modic - goes on free display in the Barbican Centre's Foyer Gallery from 28 March - 29 April 1996. This is hist first solo London exhibition.
"A PHOTOGRAPHER OF DREAMS"
Marko Modic's world is not the real world. Described as a "photograoher of dreams", he constructs "surreal" images from natural objects; his photos presenting an exploration of the subconscious mind and psychic states. Distancing himself from the "ordinary", Modic concentrates on "fantastical" aspects of the landscaoes he studies (e.g. light falling on a rockface), and photographs them in such a convincing manner that they seem to come from another world.
"I'm adding real things together to get a new dimension. The picture might seem abstract but nothing is invented. I never use computers, all things in the montages exist!" (Creative Review 1995)
Marko Modic is drawn in life to extreme situations. He enjoys unusual "dangerous sports" such as skiing into volcano craters. He also travels widely, leaving the comforts of home for often long periods of time, to enjoy the wilderness of Latin America (at the time of this exhibition, he will be travelling in Colombia). It is, then, perhaps no surprise that his pictures reflect this searcg for exeptional places, objects and phenomena.
Marko Modic (38) is a freelance photographer based in Ljubljana, Slovenia, who has exhibited in various galleries throughout Europe including the Centre Georges Pompidou, Paris; the Espace Photographique Contretype, Brussles and the Richard Demarco Gallery, Edinburgh. He has taken part in group exhibitions and performances throughout Europe, TV and video projects in Slovenia and Scotland, and has produced a number of books to accompany his exhibitions.
All pieces from the exhibition are for sale from L200 to L800 (unframed).

Press Information: Lucia Appleby, Barbican Centre Press Office Tel: 0171 638 5403
Public Information: Barbican Centre Box Office Tel: 0171 638 8891