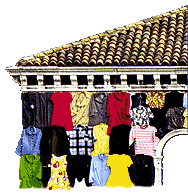 Curriculum Vitae
Matej Andraz Vogrincic was born on October, 12th, 1970 at Ljubljana, Slovenia. In 1992 he exhibited furniture made up with rubbish (a mailbox, a telephone, a table, a wardrobe, a bed, a sofa) for a "ready made" sole exhibition at Ljubljana SKUC gallery.
The following year he "dresses up" his first house in Ljubljana. In 1994 he creates a short film with Damjan Kozole (The House) and a documentary film with Tibor Ogrizek (The House Taylor)
In 1995 he sets up a factory for the production of "fruitwear" with Vuk Cosic, Le Coco Fruitwear.
In the same year he takes part to two collective exhibitions: "Urbanaria", the project for an urban intervention organised by the Soros Centre for Contemporary Art, and "Stereo-Tip", at Ljubljana's City Gallery.
1996 has come: two personal exhibitions (at Ljubljana's Anonimus Gallery and at Maribor's Gallery of Modern Art), two collectives ("The angel's body" at Koper's Obalne Galerije and "Trabakula" in Rijeka, Split and Dubrovnik, plus the making of the scenes in Marina Grzinic and Aine Smid's video.
In the past two years he has been working outside Slovenia. In fact, to the participation to the collective exhibitions "Reciklaza" of Ljubljana's SKUC Gallery and "U3-the new Slovenian contemporary art" ­ within the project "Street wear" by Peter Weibl at Ljubljana's Gallery of Modern Art ­ is added the participation to the "Biennale Young Artist" in Turin and the invitation to the "Adelaide Festival of Arts", an international event taking place in the year 2000 in Adelaide, Australia.
Le Coco Fruitwear's activity goes on with two fashion shows for fruits at the Klub K4 KUD France Preseren in Ljubljana and at the Klub Kibla in Maribor. And now "The Dressed House".