Kings of the Street
City center, Ljubljana, 1995



Kings of the Street is a public art project which turns our attention to city center marginals: homeless. Its complex, but open pattern offers a model of connection and direct communication. It could hardly be said that the strategy of the P.A.R.A.S.I.T.E. Museum is directed precisely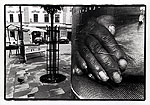 towards social commentary, symbolic messages or the description of "the actual state of things", rather it is an example of using artistic means to override the dominant strategies and discourses of power which marginalise minorities in urban surroundings and render them passive.
Photographs were taken of the homeless during walks through the city. The first contacts were established. Posters were made from the documentary photographic material and the 27 locations they reported: "The Kings are comming". Several visits to the homeless were made and discussions conducted on the nature and the content of the project.

The one-day action began with the signing of a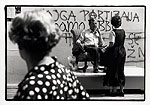 contract between the P.A.R.A.S.I.T.E. Museum and the protagonists. Podia and armchairs were set up in public areas in the city center from which the homeless communicated with passersby calling attention to their absence from the city center. The activity ended 12 hours later with the payement of wages.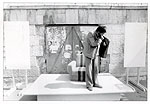 note: The Slovene law on the violation of public peace and order still allows for the prison sentence (up to 60 days) for a person who is homeless, bums around, or begs.