Quarter to Two
Moderna galerija, Ljubljana; 1995

Upon an invitation of the Museum of Modern Art (Moderna Galerija Ljubljana) at the occasion of an exposition of the works recently included in it's collection, the gallery hall with the exhibited pieces was changed into a waiting room.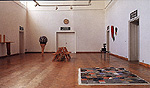 We borrowed a big, inoperative wall clock and set it to quarter to two - the time when the employes of this institution are getting ready to leave their work. The exits leading to other exhibition halls of the Museum of Modern Art were marked with the points of the compass (Exit North, Exit West etc.), but in complete disorder.




Used material:
gallery seats, clock, self-adhesive foil.