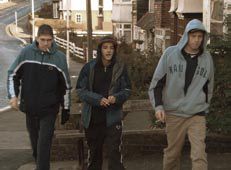 Ciganka
(GYPO)
drama, Anglija, 2005, beta, angl., 100'
Scenarij in režija: Jan Dunn
Glavne vloge: Pauline McLynn, Paul McGann, Rula Lenska, Chloe Sirene, Tamzin Dunstone
Fotografija: Jacob Vilt Kusk
Zvok: Michelle Mascoll
Montaža: Emma Collins
Glasba: Christiane Bjorg Nielsen & Labrador
Produkcija: Distant Eye Films, Spotty Dog Films & Medb Films
Angažirana zgodba, povedana iz treh perspektiv. Helen in Paul sta poročen par, ki poskuša obdržati svojo družino. Njuna osemnajstletna hči je mlada mamica, ki še hodi na kolidž. Ko pripelje na kosilo svojo prijateljico Tasho, Romkinjo in begunko iz Češke republike, se začnejo družinski odnosi naglo krhati. Paul pri kosilu ne more skriti svojega sovraštva do tujcev in grobo užali Tasho, njegova žena pa začne skrbeti zanjo. Ko se Helen zbližuje s Tasho in njeno mamo ter spoznava njuno usodo, se začne spreminjati njeno življenje, pokaže pa se tudi možnost za novo prihodnost. Prvi angleški celovečerec z oznako Dogme 95.
Nagrada za najboljši prvenec na festivalu Frameline v San Franciscu 2005!
GYPO is a fascinating story told from three perspectives. The story of Helen, Paul and Tasha encompasses the problems and concerns of a working-class couple in England, and how their lives are affected by the arrival of a young Czech refugee. It is the first feature film from the UK to follow the rules of Dogma 95.