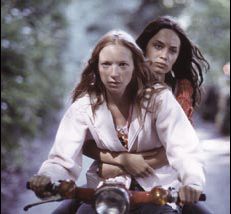 Moje ljubezensko poletje
(My Summer of Love)
drama, Anglija, 2004, 35mm, slov. pod., 86'
Scenarij: Pawel Pawlikowski in Michael Wynne
Režija: Pawel Pawlikowski
Glavne vloge: Natalie Press, Emily Blunt, Paddy Considine
Fotografija: Ryszard Lenczewski
Zvok: John Pearson
Montaža: David Charap
Glasba: Alison Goldfrapp in Will Gregory
Produkcija: Apocalypso Picture
Mladostnici Mona in Tamsin se srečata v pustoti nad yorkshirsko vasjo in skleneta neverjetno močno prijateljstvo. Tamsin je rada tragična in fantastična, Mona je neotesana in duhovita. Če je Tamsin lahko hitro očarana, Mona postane odvisna. Obe bi radi pobegnili od svojih okoliščin, toda Monin brat Phil, nekdaj zapornik, zdaj pa vaški verski reformator, ju hoče rešiti. Ko se njihova življenja medsebojno prepletajo in zapletajo, se seksualno napet boj med dobrim in zlom izteče v dramatičen in presenetljiv konec. Zgodba o obsedenosti, skrivnosti in prevari, gotovo pa o boju za ljubezen in trdno prepričanje v svetu, kjer se zdi oboje nemogoče.
Nagrada za najboljši britanski novi film na Edinburgh International Film Festival 2004!
Nagrada za najboljši scenarij Evening Standard British Film Award 2005!
Nagrada občinstva na festivalu MFF v Motovunu 2005!
Mona and Tamsin meet above quiet Yorkshire village and begin an intense, unlikely friendship. While Tamsin is tragic and fantastical, Mona is rough and witty. Both want to escape their lives but Phil, Mona's brother, wants to save them. A sexually charged struggle between good and evil leads to a dramatic and shocking climax.