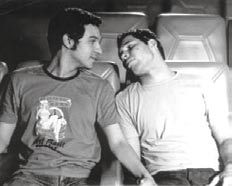 Prvo poglavje
(Capítulo primeiro)
študentski, Brazilija, 2005, dvd, angl. pod., 20'
Scenarij in režija: Roberto Maxwell
Glavne vloge: Duaia Assumpçao, Miguel Filho, Cristina Froment, Jaderson Fialho, Flavio Martins
Fotografija: Guga Millet
Zvok: Marcos Manna
Montaža: Joao Borges
Glasba: Marcelo Berriel & Evandro Jr.
Produkcija: Estacio de Sá University
Lucia po naključju najde pismo nekega fanta njenemu sinu. Kot kristjanka poskuša sina spraviti na pravo pot. Parodija na brazilske nadaljevanke.
Svetovna premiera!
Lucia finds a love-letter from a boy to her son, Pedro. As a Christian woman she tries to »save« Pedro but he has already chosen his own destiny.