Brat bratu
(Brother to Brother),
drama, ZDA, 2004, 35mm, slov. pod., 90'
S
CENARIJ IN REŽIJA: Rodney Evans
G
LAVNE VLOGE: Anthony Mackie, Roger Robinson, Larry Gilliard Jr., Aunjaune Ellis, Duane Boutte, Daniel Sunjata, Alex Burns, Ray Ford
F
OTOGRAFIJA: Harlan Bosmaijan
G
LASBA: Mary Anthony Thompson
P
RODUKCIJA: Rodney Evans, Jim McKay, Aimee Schoof, Isen Robbins, kopr. Marc Henry Johnson, Seth Carmichael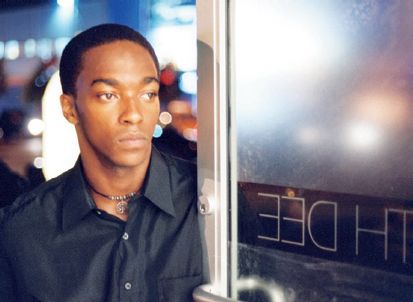 Perry, mlad temnopolti gejevski umetnik, ki živi v New Yorku, je prisiljen zapustiti svoj dom, ko ga oče zaloti z ljubimcem. Da bi lahko preživel in se šolal naprej, si najde zaposlitev v zavetišču za brezdomce, kjer spozna ostarelega pesnika Brucea. Za Perryja, ki je nenehno razdvojen med prioritetami gejevske in črnske skupnosti, je to znanstvo tudi odkritje dediščine gejevske in lezbične uporniške subkulture iz časov harlemske renesanse. Ko se seznani z življenjem in delom Wallacea Thurmana, Langstona Hughesa, Zore Neale Hurston in Aarona Douglasa, začne to obdobje gejevskega ponosa med temnopoltimi razumeti tudi kot svojo zgodovino.
Brother to Brother
is a narrative film which follows the emotional and psychological journey of a young Black gay artist Perry as he discovers the hidden legacies of the gay and lesbian subcultures within the Harlem Renaissance. Perry learns about the lives and personalities of Wallace Thurman, Langston Hughes, Zora Neale Hurston and Aaron Douglas and begins to recognize this era as his history. He sees the pride of being Black, gay and unashamed.
Nagrada žirije na Sundance Film Festival 2004!

Nagrada žirije na Los Angeles Gay and Lesbian Festival 2004!

Nagrada žirije in občinstva na Outfest – LA 2004!

Nagrada občinstva na San Francisco Gay and Lesbian Film festival 2004!

Najboljši film na Newfest 2004!