Brstenje Maxima Olivera
(Ang Pagdadalaga ni Maximo Oliveros),
drama, Filipini, 2005, beta, angl. pod., 100'
S
CENARIJ: Michiko Yamamoto
G
LAVNE VLOGE: Nathan Lopez, Soliman Cruz, JR Valentin, Ping Medina, Neil Ryan Sese
M
ONTAŽA: Kanakan-Balintagos, Clang Sison
G
LASBA: Joey »Pepe« Smith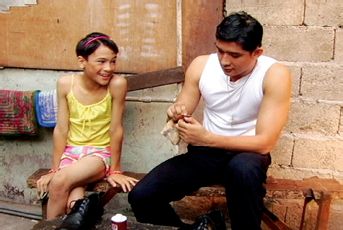 Dvanajstletnik Maxi živi v revnem predelu filipinskega glavnega mesta Manila. Po materini smrti njegovo družino in vsakdanji svet predstavljajo oče in brata, ki se ukvarjajo z nečednimi posli. Predani Maxi jim kuha, pere, krpa hlače in jih, kadar je treba, tudi zaščiti pred zakonom. Oče in brata pa brez težav sprejemajo njegovo homoseksualnost in feminilno vedenje. Nekega večera Maxija pred šikaniranjem zaščiti dobrodušen in simpatičen mlad policist Victor. Prijateljstvo in zaljubljenost Maxija navdihneta s spoznanjem, da nekje obstaja lepše in boljše življenje. Toda pošten policist Victor nikakor ni pogodu očetu in bratoma, saj ogroža njihove posle in jim jemlje Maxijevo predanost.
The Blossoming of Maximo Oliveros pits the purity of first love against the poverty and corruption that dominate the slums of Manila which is a home of 12-year-old Maxi. His homosexuality is accepted by his nearest and dearest. Maxi has a calming influence on his father and two brothers. Things work out fine until he meets Victor, a respected, principled policeman who awakens Maxi's dreams of a better life – on the straight and narrow. This is a recipe for disaster as far as the family is concerned.
Več kot 15 nagrad v različnih kategorijah na mnogih mednarodnih festivalih: Berlinale – Teddy 2006, Rotterdam Film Festival, Cine Festival Las Palmas, Torino ...!