Elektrošok
(Electroshock),
drama, Španija, 2006, beta, angl. pod., 98'
S
CENARIJ: Juan Carlos Claver, Agustín Madariaga
R
EŽIJA: Juan Carlos Claver
G
LAVNE VLOGE: Carmen Elías, Susi Sánchez, Julieta Serrano, Juli Mira, Toni Sevilla, Sergio Caballero, Juan Fernandez
F
OTOGRAFIJA: Javier Quintanilla
M
ONTAŽA: Rosa Maria Harto
P
RODUKCIJA: Kines Producciones, kopr. Dacsa Produccions, Zip Films, TV3, TVV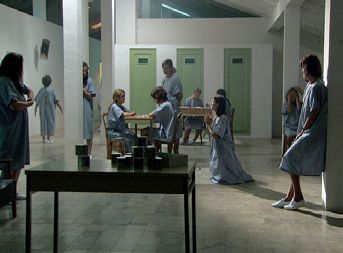 Pilar in Elvira sta učiteljici, ki v letih železne Frankove vladavine v Španiji postaneta tudi ljubimki. Ker živita skupaj, sta kmalu sumljivi za okolje. Nekega dne Pilarini starši pridejo z bolničarji in svojo hčer odpeljejo v psihiatrično bolnišnico, kjer jo pet let »zdravijo« z elektrošoki. Medtem je Elvira, ki zdaj predstavlja nevaren dejavnik, ne sme niti obiskati. Po Frankovi smrti 1975. in padcu diktature je Pilar končno izpuščena iz bolnišnice in kmalu ljubimki ponovno zaživita skupaj. Toda leta »zdravljenja« lezbištva so ji pustila hude posledice. Televizijska drama Elektrošok, ki mestoma spominja na napeto kriminalko, je posneta po resnični zgodbi.
Pilar and Elvira live a love that can't be broken by "all the electricity of the world". They are living the last years of the Franquism. Pilar is sent to a psychiatric hospital to "cure that disease". When they finally manage to be together again, the consequences of the psychiatric torture slowly break Pilar and destroy their lives again as they have to fight another enemy.