Pozabiti na Cheyenne
(Oublier Cheyenne),
drama, Francija, 2004, 35mm, angl. pod., 85'
S
CENARIJ: Valérie Minetto, Cécile Vargaftig
G
LAVNE VLOGE: Mila Dekker, Aurélia Petit, Malik Zidi, Laurence Côte, Luc Leclerc du Sablon
F
OTOGRAFIJA: Stephan Massis
Z
VOK: Nathalie Vidal, Eric Boisteau
G
LASBA: Christophe Chevalier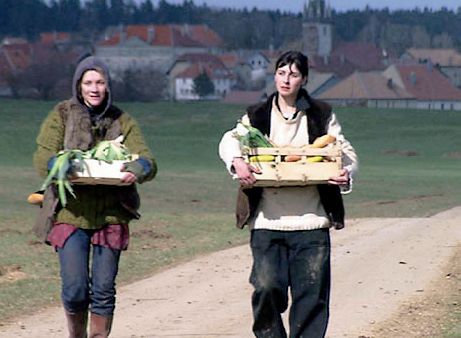 Sonia in Cheyenne sta ljubimki, razdruženi zaradi ideoloških okoliščin, ki jih ne moreta nadzorovati. Cheyenne, naveličana dolgoletne brezposelnosti po izgubi službe novinarke, se preseli v oddaljeno vas, da bi dokazala sebi in drugim, da lahko živi le od zemlje, daleč proč od pokvarjenega kapitalističnega sveta. Sonia ostaja zaposlena kot mladim predana in naklonjena učiteljica, v prostem času pa se zapleta v kratke ljubezenske afere, med drugim tudi z idealističnim mladeničem in izkušeno, a zagrenjeno lezbijko. Režiserka je v filmu uporabila eksperimentalne prijeme, da bi še bolj plastično prikazala zgodbo o nenavadni ločitvi ljubimk, ki se nikoli ne nehata ne pozabljati ne iskati.
How to link what you think and what you do? What you want and what you can? The one that you love and the things that you refuse? Cheyenne, who successfully transformed her own bad tiding in an universal fight against any comfort provided by modern society – therefore giving up electricity and heating – can't forget the love of Sonia. Looking for Cheyenne is about never giving up on one's love. Valérie Minetto's film uses experimental hijinks to artfully tell the story of the women's unusual separation.