Pozitivno goli
(Positively Naked),
dokumentarni, ZDA, 2005, dvd, angl., 38'
S
CENARIJ IN REŽIJA: Arlene Donnelly Nelson, David Nelson
F
OTOGRAFIJA: Stephen Kazmierski, Brett Albright
P
RODUKCIJA: Juntos Film Production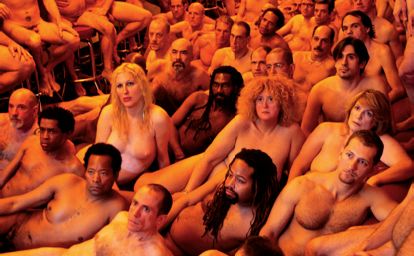 Revija POZ, največja ameriška publikacija na temo HIV-a in aidsa, je za naslovnico ob deseti obletnici izhajanja najela znanega fotografa Spencerja Tunicka. Tunick je poskrbel za nepozabno snemanje skupinskih fotografij, na katerih petinosemdeset HIV pozitivnih pozira v neki restavraciji na Manhattnu. Dokumentarec Pozitivno goli ne prikazuje le poteka snemanja, ampak tudi zgodbe različnih ljudi, ki so v tej skupini našli moč in pogum.
When contemporary artist Spencer Tunick is commissioned to create one of his nude photographic installations for the 10-year anniversary cover of POZ magazine, the nation's largest HIV/AIDS publication, eighty-five HIV positive people pose nude together in a downtown Manhattan restaurant with the intention of celebrating survival, encouraging disclosure and combating stigma.
Nagrada za najboljši kratki film na Silverdocs/Afi Discovery Film Festival, New York Aids Film Festival in Dallas Out Takes 2005!

Nagrada občinstva na Newport International Film Festival 2005!

Dobitnik Hugo Awards za najboljši televizijski dokumentarec na področju humanizma!

Nominacija International Documentary Association za izjemen dosežek!