Tekoče nebo
(Liquid Sky),
znanstvenofantastični, ZDA, 1982, dvd, angl., 112'
S
CENARIJ: Anne Carlisle, Nina V. Kerova, Slava Tsukerman
R
EŽIJA IN PRODUKCIJA: Slava Tsukerman
G
LAVNE VLOGE: Anne Carlisle, Paula E. Sheppard, Susan Doukas, Otto von Wernherr, Bob Brady, Elaine C. Grove, Stanley Knapp
Z
VOK: John Auerbach, Frank Kern
G
LASBA: Anatoli Gerasimov, Brenda I. Hutchinson, Slava Tsukerman, Helene Zvereva (originalna), Marin Marais, Carl Orff (priredba)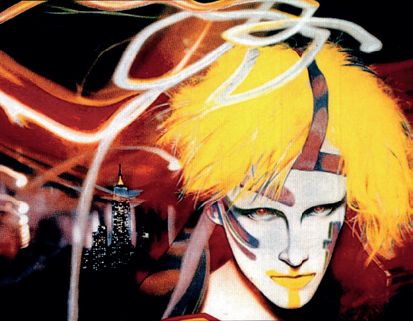 Vesoljci v majhnem letečem predmetu med iskanjem heroina pristanejo na vrhu newyorškega stanovanja, v katerem živita dilerka in njena androgina ljubica, odvisnica in fotomodel. Takrat ugotovijo, da so jim feromoni, ki nastajajo v človeških možganih med orgazmom, bolj všeč od heroina. Tako pričnejo priložnostni ljubimci in ljubimke androginega fotomodela skrivnostno izginjati, čim doživijo orgazem. Bizarne dogodke opazujejo osamljena ženska v stolpnici na drugi strani ceste, nemški znanstvenik, ki zasleduje vesoljce, in moški fotomodel (ki ga ravno tako igra Anne Carlisle). Kultni in čudaški film v znamenju postpanka in novega vala osemdesetih je stvaritev ruskega emigranta Slave Tsukermana in njegove žene.
Invisible aliens in search of heroin land on top of a New York City apartment inhabited by a drug dealer and her female, androgynous, fashion model, lover. The aliens soon discover that they prefer the human pheromones created in the brain during orgasm to heroin, and the model's casual sex partners begin to disappear. The bizarre scenario is observed by a lonely woman in the building across the street, a German scientist who is following the aliens, and a drug-addicted male model. Darkly funny and thoroughly weird.