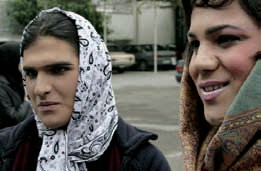 Biti kot drugi (Be Like Others)
dokumentarni, Kanada, Iran, VB, ZDA, 2008, Beta, 74', angl. pod.
Scenarij in režija: Tanaz Eshaghian
Glavne vloge: Ali Askar/Negar, Anoosh/Anahita, Farhad, Vida, Ali Ramani, Shahin Hamshahri
Fotografija: Amir Hosseini
Montaža: Jay Freund
Glasba: Henning Lochner
Produkcija: Tanaz Eshaghian/Forties B LLC, Necessary Illusions Productions Inc.
Provokativni pogled ameriško-iranske režiserke na Irance, ki se odločajo za operativno spremembo spola; ta je v Iranu, islamski republiki strogih moralnih nazorov in tradicionalnih vrednot, dovoljena, medtem ko za homoseksualnost velja smrtna kazen. Pred več kot dvajsetimi leti je Ajatola Homeini objavil fatvo (sodbo), po kateri je sprememba spola dovoljena za »diagnozo transseksualnosti«. Tako se generacije mladih Irancev feminilnega videza kljub homoseksualni usmerjenosti iz strahu raje odločajo za spremembo spola.
In the Islamic Republic of Iran, a country with strict social mores and traditional values, sex-change operations are legal. Over twenty years ago, Ayatollah Khomeini issued a fatwa (religious edict) making sex change permissible for »diagnosed transsexuals.« Yet homosexuality is still punishable by death. Be Like Others is a fascinating look at those on the fringes of Iranian life – those looking for acceptance through the most radical of means.
Nagrada Teddy za najboljši dokumentarec, Berlinale 2008!
Nagrada žirije na Insideout festivalu 2008, Toronto!
Nagrada Fipresci na Thessaloniki Documentary Festival 2008!