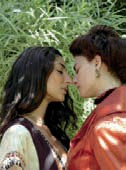 Dotik (The Touch)
igrani, ZDA, 2007, dvd, 8', angl.
Scenarij, režija in montaža: Jane Clark
Glavne vloge: Traci Dinwiddie, Necar Zadegan
Fotografija: Adam Tash
Zvok: Jody Abbott
Glasba: Erik Satie, Puccini
Produkcija: FilmMcQueen
Lezbična pesnica Renée Vivien je leta 1904 prejela pismo od oboževalke Kerime, žene turškega diplomata.
In 1904, Renée Vivien, a well-known lesbian poet, received a letter from an admirer, Kerime who was a Muslim and the wife of a Turkish diplomat.