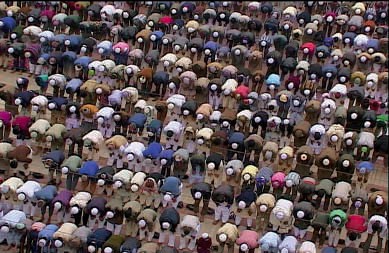 Džihad za ljubezen (A Jihad For Love)
dokumentarni, ZDA, VB, Francija, Nemčija, Avstralija, 2007, Beta, 81', angl./pod.
Scenarij in režija: Parvez Sharma
Fotografija: Berke Bas, Parvez Sharma
Montaža: Juliet Weber
Zvok: Ira Spiegel, John Werner
Glasba: Sussan Deyhim, Richard Horowitz
Produkcija: Channel Four Films, Halal Films, Katahdin Foundation, Logo, Realise, SBS Australia, ZDF/Arte idr.
Režiser Parvez Sharma je v svojem prvencu, ki ga je snemal šest let, združil izjemna pričevanja in pretresljive usode muslimanskih gejev in lezbijk iz dvanajstih držav sveta, med drugim iz Indije, Pakistana, Irana, Turčije, Egipta, Južnoafriške republike in Francije. Marsikje je bilo snemanje tovrstne tematike zelo tvegano. Avtor džihada ne enači s sveto vojno, ampak z globljim in širšim pomenom prizadevanja za hojo po božji poti. Ta pot je za LGBT populacijo v muslimanskih državah pogosto izjemno nevarna in težka za vse, ki hočejo verska prepričanja združiti s svojo istospolno usmerjenostjo.
In a time when Islam is under tremendous attack from within and without, A Jihad for Love is a daring documentary filmed in twelve countries and nine languages. Muslim gay filmmaker Parvez Sharma has gone where the silence is loudest, filming with great risk in nations where government permission to make this film was not an option.
Nagrada za najboljši dokumentarec na mnogih festivalih!