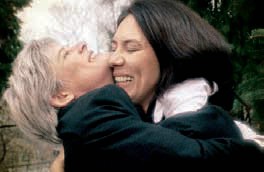 Finnina punca (Finn's Girl)
drama, Kanada, 2007, 35mm, 88', angl.
Scenarij: Laurie Colbert
Režija: Dominique Cardona, Laurie Colbert
Glavne vloge: Brooke Johnson, Yanna McIntosh, Maya Ritter, Gilles Lemaire, Andrew Chalmers
Fotografija: Patrick McGowan
Montaža: Gino Zolezzi
Zvok: Susan Fairbairn
Glasba: Tom Third
Produkcija: Cardona-Colbert Production
Ginekologinja Finn Jefferies žaluje za svojo umrlo partnerko Nancy, od katere je prevzela ginekološko kliniko, ki je nenehno tarča vse bolj fanatičnih nasprotnikov splava. Finn poskuša preživeti z bremenom izgube partnerke in z vsakdanjim tveganjem življenja na delovnem mestu, hkrati pa si prizadeva izboljšati odnos z njuno enajstletno hčerko Zelly Bean, čeprav materinske vloge ni vajena. Hči pa svojo žalost izraža z neukrotljivo samovoljo in z divjim uporom proti svoji »drugi« materi. Težave se le še stopnjujejo, kajti Zelly vse pogosteje šprica šolo, kadi travo in krade po trgovinah.
Nothing had ever rocked dr. Finn's passionate, committed life until the untimely death of her beloved long-term partner, Nancy. She also took over her lover's abortion clinic that is being protested by increasingly violent »pro-lifers«. As she flounders in her grief, she takes risks that jeopardize her relationship with their daughter, eleven-year-old Zelly Bean.
Več nagrad žirije in publike na GLBT festivalih po svetu!