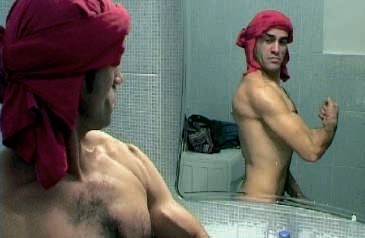 Kenedi se ženi (Kenedi Is Getting Married)
dokumentarno-igrani, Srbija, 2007, 35mm, 80', slov. pod.
Scenarij in režija: Želimir Žilnik
Glavne vloge: Kenedi Hasani, Salji Hasani, Saip Hasani, Max Steiner, Philipp Eisenmann
Fotografija: Miodrag Milošević
Montaža: Vuk Vukmirović, Branislav Klašnja
Produkcija: Terra film, Jet.Co. – VK TV
Rom Kenedi Hasani, bizarni junak več filmov kultnega režiserja Želimirja Žilnika (Marmornata rit), si je zgradil hišo in zašel v dolgove. Skupaj z bratom iščeta primerno delo, da bi jih povrnil. Kenedi se odloči tudi za prodajo ljubezenskih uslug, najprej vdovam, potem pa še premožnejšim moškim. Ko se seznani z novimi, liberalnejšimi evropskimi zakoni, se domisli, da bi si lahko poiskal moža, kar bi mu omogočilo legalno bivanje v EU. Na glasbenem festivalu Exit sreča nemškega geja Maxa, ki ima ravno težave s partnerjem, in zdi se, da je idila s Kenedijem prišla v pravem trenutku.
Kenedi is in huge debt after building a house for his family. He finds himself searching for any kind of work to support himself. Ultimately, he decides to look for money in sex business. Initially offering his services to older ladies and widows, Kenedi later sees prospects in gay marriage. The opportunity arises during EXIT Music Festival, when he meets Max, a guy from Munich.
Nagrada za glavno moško vlogo na Filmskem festivalu Srbije v Novem sadu 2007!