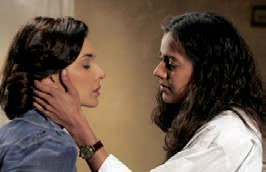 Nevidni svet (The World Unseen)
drama, Južna Afrika, VB, 2007, Beta, 94', slov. pod.
Scenarij: Shamim Sarif po lastnem romanu
Režija: Shamim Sarif
Glavne vloge: Lisa Ray, Sheetal Sheth, Parvin Dabas, Nandana Sen, David Dennis, Grethe Fox
Fotografija: Mike Downie
Montaža: David Martin
Glasba: Richard Blackford
Produkcija: Elightenment Productions, DO Productions
Južnoafriška republika v petdesetih letih apartheida. Svobodomiselna in samosvoja Amina je prelomila vsa pravila svoje konvencionalne indijske družine in zakone apartheida. Lokal namreč vodi skupaj s temnopoltim partnerjem, pa še poročena ni. Ko spozna Miriam, mlado tradicionalno ženo in mater, se med njima nepričakovano splete nežna prijateljska vez. Neobičajna Amina Miriam vznemirja in začne se spraševati o prej samoumevnih pravilih, ki jo v resnici močno omejujejo. Ko Amina pomaga skriti Miriamino svakinjo, se sproži veriga dogodkov, ki obema spremeni življenje.
Free-spirited Amina has broken all the rules of her own conventional Indian community, and the new apartheid-led government, by running a café with Jacob her »coloured« business partner. When she meets Miriam, a young traditional wife and mother, their unexpected attraction pushes Miriam to question the rules that bind her.
Nagrada občinstva na Miami Lesbian and Gay Film Festival 2008!
Srebrna medalja na Verzaubert Film Festival 2008!