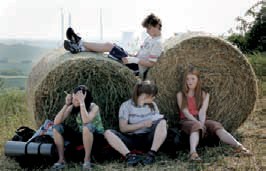 Punčke (Pusinky/Dolls)
mladinski road movie, Češka republika, 2007, 35mm, 90', angl. pod.
Scenarij: Petra Ušelová, Karin Babinská
Režija: Karin Babinská
Glavne vloge: Sandra Nováková, Marie Doležalová, Petra Nesvačilová, Oldřich Hajlich, Matěj Ruppert, Filip Blažek
Fotografija: Martin Douba
Montaža: Marek Opatrny
Zvok: Jiří Klenka, Robert Dufek
Glasba: Jan P. Muchow
Produkcija: Cineart TV Prague, Independent Heads, I/O Post idr.
Iška, Karolina in Vendula po srednji šoli niso bile sprejete na univerzo. Ne vedo čisto dobro, kaj bi s seboj, želijo pa pobegniti pred stereotipi vsakdanjega življenja in se odločijo, da bodo skrivaje štopale v obljubljeno sanjsko mesto Amsterdam. Najprej jim načrte pokvari Iškin brat Vojta, saj sestri ne pusti na pot brez očetovega dovoljenja. Ne preostane jim drugega, kot da ga vzamejo s seboj. Na zakleti poti po Češki republiki se introvertirana Iška vse bolj sooča s svojo lezbičnostjo, s svojimi željami, strahovi, srečnimi in nesrečnimi ljubeznimi ter z nenehnimi konflikti pa se spoprijemajo tudi njeni prijatelji.
Iška, Karolina and Vendula weren't accepted to the university. They are terrified of the stereotypes of everyday life and plan the great escape to Holland. They want to live their life to the fullest and maybe even work a little. Their journey is complicated by Iška's 14-year-old brother Vojta, who wants to watch over her. And that's only the first of many complications.