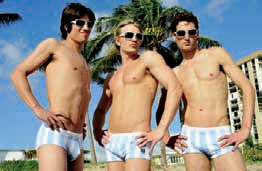 Še en gejevski del – podivjani geji (Another Gay Sequel – Gays Gone Wild)
komedija, ZDA, 2008, Beta, 90', slov. pod.
Scenarij: Eric Eisenbrey, Todd Stephens
Režija: Todd Stephens
Glavne vloge: Jonah Blehman, Jake Mosser, Aaron Michael Davies, Jimmy Clabots, Euriamis Losada, Ru Paul, Ashlie Atkinson
Fotografija: Carl Bartels
Montaža: Spencer Schilly
Zvok: Andrejs Prokopenko
Glasba: Marty Beller, Bill Coleman
Produkcija: Luna Pictures, Caveat Films
Drugi del lanske uspešnice, razvpite gejevske komedije Še en gejevski film, v katerem se Andy, Nico, Jarod in Griff odpravijo na počitnice in dokažejo, da so že odrasli in – še bolj nori! Če so se v prvem delu ukvarjali s tem, kako izgubiti nedolžnost, pa v drugem tekmujejo, kdo bo imel največ ljubimcev. Snidejo se na tipičnih gejevskih počitnicah v Fort Lauderdaleu in sodelujejo v tekmovanju »Podivjani geji«. Sicer pa divjajo na vsakem koraku, iščejo priložnostni seks, se preizkušajo v t. i. odprti zvezi, vsekakor pa ugotavljajo, da največ konfliktov povzroča ravno ljubezen. Smešna, nekorektna, odtrgana in zelo vroča ameriška gejevska pita!
Another Gay Sequel finds our heroes Andy, Nico, Jarod and Griff reuniting at a gay resort in sunny Fort Lauderdale for Spring Break. They participate in a contest called »Gays Gone Wild« to determine who can attain the most »buttlove« over the course of the vacation. But this time around, love proves to be the biggest conflict of all as the boys struggle to rectify just how casual sex fits into their lives.
Po projekciji otvoritveni koktajl v preddverju Kinoteke!