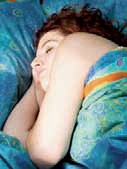 Sosede (El patio de mi casa / Neighbours)
komedija, Španija, 2007, dvd, 24', angl. pod.
Scenarij, režija in produkcija: Pilar Gutiérrez Aguado
Glavne vloge: María- Pilar Molinero, Asun- Ana García, Laura- Silvia. García de Pé, Jonás- Jonatan Guillo
Fotografija: José Manuel Fandos
Montaža: Pilar Gutiérrez
Zvok: Nanuk S.P
Glasba: Nieves Arilla
María živi sama z najstniškim sinom Jonásom. Spoprijatelji se s sosedama Asun in Lauro.
María lives with her teenager son, Jonás. She befriends neighbours Asun and Laura, who live alone in the same block of flats.