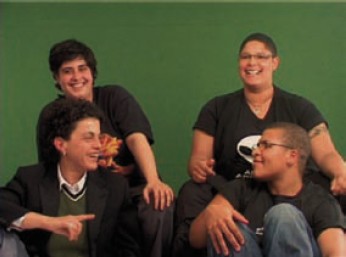 Na delu
(Working on It)
dokumentarni, nemčija/Švica, 2008, 50', Beta pal, Slov. pod.
Režija: Karin Michalski in Sabina Baumann
Fotografija: Bernadette Paassen
Montaža: Elfe Brandenburger
Glasba: Lesbians on Ecstasy, Scream Club, Heidi Mortenson, Rhythm King and her friends
Produkcija: Sabina Baumann, Karin Michalski, Peacock Film
Dokumentarni film Na delu s pogovori, performansi in queerovsko elektronsko glasbo raziskuje in sprevrača teme spola ter spolne identitete. Kako se spol in identiteta konstruirata v vsakdanjem življenju: na delovnem mestu, v filmih, na televiziji ali v medsebojnih odnosih? Kako se posameznica ali posameznik spoprijemata z identitetnimi oznakami, ki niso nujno binarne, še manj pa stabilne ali enoznačne? Skupina berlinskih in züriških umetnic se je po enem letu ponovno sestala v Berlinu, pregledala stare posnetke intervjujev ter poskušala filmsko dekonstruirati spolne norme in si ponovno prilastiti predstavo o »drugosti«.
Working on It is a film about gender and sexual identity. With interviews and stagings the film wants to interfere into the discourse of gender and identity. It thematizes how these are constructed at workplaces, in the movies/on TV and in relationships at home. How can one deal with these ascriptions? The 15 protagonists show images, make performances, play queer electronics and talk about queer strategies in the field of sexual politics.
Po projekciji pogovor z ustvarjalkama filma Karin Michalski in Sabino Baumann!