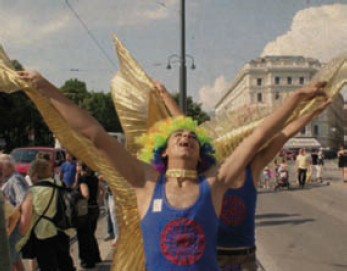 Romski fantje
(Příběh lásky / Roma Boys – The Love Story)
igrani dokumentarni, Češka republika, 2009, 30', dv, angl. pod.
Scenarij: Rozálie Kohoutová, David Tišer
Režija: Rozálie Kohoutová
Glavne vloge: David Tišer, Michal Šaray, Pavlína Matiová, Ivan Šaray, Věra Duždová, Tomáš Ščuka
Fotografija: Lukáš Kokeš
Montaža: Evženie Brabcová
Zvok: Ladislav Greiner
Glasba: !DelaDap
Produkcija: FAMU – Film and TV School Prague
Dokumentarec obravnava zamolčano temo homoseksualnosti v romski skupnosti v Češki republiki. Za skupnost, ki močno prisega na tradicionalni življenjski stil, je istospolna ljubezen še vedno velik tabu, geji pa so deležni neizprosne diskriminacije. V glavni vlogi nastopa znani romski aktivist David Tišer, ki je tudi napisal avtobiografski scenarij. Zaradi strahu in nesprejemanja je bilo težko dobiti resnične osebe, ki bi nastopile v filmu, zato se je režiserka odločila narediti igrani dokumentarec s fiktivnimi liki. S tako režirano filmsko naracijo se ji je posrečilo posneti zanimivo pričevanje o večkratni diskriminaciji.
The main character is well-known Roma gay activist David Tišer, who wrote a screenplay based on his own experiences about the topic of homosexuality which is still a taboo in the Roma community. The film director decided to create a semidocumentary full of strong images. Through this uncommon storytelling she achived a great story about multiple discrimination.