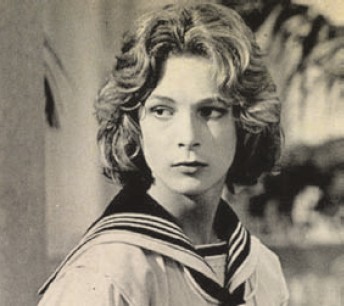 Smrt v Benetkah
(Morte a Venezia / Death in Venice)
drama, Italija/Francija, 1971, 130', 35 mm, slov. pod.
Scenarij: Luchino Visconti, Nicola Badalucco po romanu Thomasa Manna
Režija: Luchino Visconti
Glavne vloge: Dirk Bogarde, Romolo Valli, Mark Burns, Nora Ricci, Marisa Berenson
Fotografija: Pasqualino de Santis
Montaža: Ruggero Mastroianni
Zvok: Renato Cadueri
Glasba: Gustav Mahler
Produkcija: Alfa Cinematografica
Starejši avantgardni skladatelj Gustave Aschenbach (lik je delno zasnovan na Mahlerju) odpotuje v letovišče pri Benetkah, da bi si oddahnil po umetniški in osebni izčrpanosti. A tudi tam ne najde miru, saj začuti nezadržno privlačnost do najstnika Tadzia, ki je na počitnicah s svojo poljsko družino. Za skladatelja fant uteleša ideal lepote, ki ga je dolgo iskal. Širjenje smrtonosne kuge, ki ogroža vse v letovišču, hkrati predstavlja moralni razpad, ki kompromitira in ogrozi sleherni ideal. Prizor skladatelja Aschenbacha, ki med umiranjem na obali opazuje Tadzia, sodi med nepozabne vrhunce gejevske filmske klasike.
In this adaptation of the Thomas Mann novel, avantgarde composer Gustave Aschenbach (loosely based on Gustav Mahler) travels to a Venetian seaside resort in search of repose after a period of artistic and personal stress. But he finds no peace there, for he soon develops a troubling attraction to an adolescent boy, Tadzio, on vacation with his family. The boy embodies an ideal of beauty that Aschenbach has long sought and he becomes infatuated.
Več kot dvajset nagrad in nominacij na filmskih festivalih!