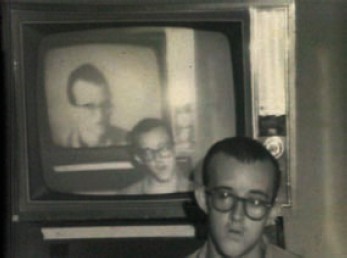 Svet Keitha Haringa
(The Universe of Keith Haring)
dokumentarni, italija/Francija, 2008, 90', digibeta pal, angl.
Scenarij in režija: Christina Clausen
Fotografija: John C. Kelleran, Flavio Bernardi
Montaža: Silvia Gulietti
Zvok: Eric Bini, Michael Velasco, Dinh Khoi Vu, Filippo Luzi
Glasba: Junior Vasquez, Angelo Talocci
Produkcija: OverCom, French Connection Films, Absolutefilm
Svet Keitha Haringa je intimni, umetniški in aktivistični portret svetovno znanega umetnika Keitha Haringa, ki je ustvarjal z vodilom: »Umetnost je za vsakogar!« Njegovi družinski člani pojasnjujejo, da je bil Keith že kot mladenič ustvarjalen in samosvoj risar, kar je ostal do konca življenja, tudi takrat, ko je izvedel, da umira za aidsom. Njegove risbe pa so prepoznavni znak glbt-gibanja in boja proti aidsu. V dokumentarcu je veliko zanimivih arhivskih posnetkov in intervjujev s svetovno znanimi zvezdami, ki so poznale Haringa: Grace Jones, Yoko Ono, David LaChapelle, Madonna, Kenny Scharf …
The Universe of Keith Haring is an intimate portrait of the world-renowned artist Keith Haring whose mantra was »Art is for everyone!« The film is an intimate exploration of the background and career of one of the most popular and significant artists of the 20th century. The film features interviews and archival footage of Fab 5 Freddy, Jeffrey Deitch, Kim Hastreiter, Grace Jones, Madonna, Yoko Ono, Andy Warhol, among many others.