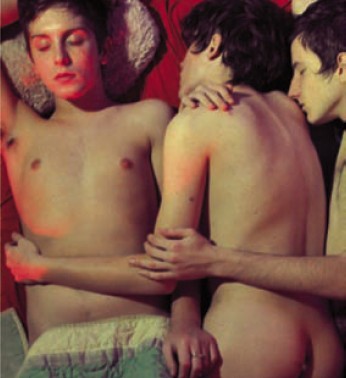 Uničeni
(Wrecked)
porno drama, ZDA, 2009, 73', dvd, angl.
Scenarij in režija: Harry and Bernard Schumanski
Glavne vloge: Theo Montgomery, Womack Daryl, Peter Peterson, Benji Crisnis, Forth Richards
Osemnajstletni Ryan želi postati igralec in si urediti življenje. Toda njegovi načrti ne držijo dolgo. Na vratih se namreč nenapovedano prikaže njegov nekdanji ljubimec Daniel, ki potrebuje prenočišče, poleg tega pa Ryanu obljublja pravo in ljubeče razmerje. Toda Daniel je odvisen od drog in obseden s seksom. Njegove obljube o normalnem življenju so prazne, v spiralo seksanja in zadevanja pa kmalu povleče tudi samega Ryana. Uničeni je eden boljših nizkoproračunskih ameriških filmov letošnjega leta, gotovo pa tudi zelo seksualno ekspliciten film o mladih gejih, drogah in seksu.
Ryan is an earnest 18-year-old trying to become an actor and getting his life on the right track. This course is quickly threatened with the sudden arrival of his ex, Daniel, who arrives at Ryan's door wanting a place to stay and offering the promise of a normal, loving relationship. But Daniel's drug addiction and his perpetually slutty top-man horniness soon ensnares Ryan in his own downward spiral of sex and drug addiction.