Marko Jakse
Slikarstvo / Painting: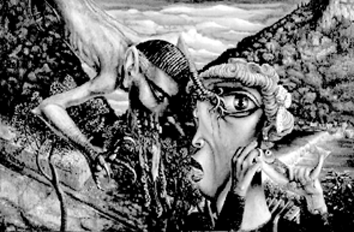 4. MARKO JAKŠE
... Misteriji "grde romantike": pest v ušesu, peta v nosu, žica v nasmehu... Izgubljenje v vesolju bizarnih panoram mutiranih domačij, dušene erotike, britvic in sladkorja, monstruoznosti iz hiše čez cesto. Okno v zidu vsakdanje norosti...
... Misteriji "ružne romantike": pest u uhu, peta u nosu, žica u smiješku... Gubljenje u svemiru bizarnih panorama mutiranih domaja, gušene erotike, žileta i šećera, monstruoznosti iz kuće preko puta. Prozor u zidu svakidašnje ludosti...
... The mysteries of "ugly romanticism": a fist in ear, a heel in nose, a wire in smile... Lost in the space of bizarre vistas of mutated homesteads, suffocated eroticism, razor blades and sugar, of monstruosity from the house across the road. A window in the wall of regular insanity...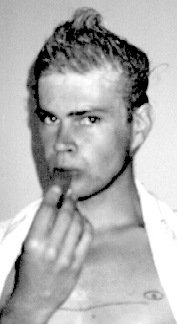 4. MARKO JAKŠE, rojen 6.7. 1959 v Ljubljani. 1987 diplomiral na Akademiji za likovno Umetnost, Ljubljana pri Metki Krašovec. Svobodni umetnik.
4. MARKO JAKŠE, rođen 6. 7. 1959. u Ljubljani. 1987. diplomirao na Akademiji za likovnu umjetnost u Ljubljani, kod Metke Krašovec. Slobodni umjetnik.
4. MARKO JAKŠE, born 6 July 1959 in Ljubljana. He graduated in 1987 from the Academy of Fine Arts in Ljubljana under Prof. Metka Krašovec. He is a free-lance artist.
Razstave (izbor) / Izložbe (izbor) / Exhibitions (selection): Galerija EQURNA, Ljubljana - 1991; galerija ŠKUC, Ljubljana; galerija IVAN GROHAR, Škofja Loka; BIENALE MLADIH 1993, Rijeka; "De figurae" (skupinska razstava), galerija ŠKUC, Ljubljana; "De ark" - ANTWERPEN 93 - kulturna prestolnica Evrope; GHENT, Belgija - one man show; galerija EQURNA, Ljubljana; Muzej Moderne Umetnosti, Ljubljana; Moderna galerija, Celje.
Dobitnik nagrad / Dobitnik nagrada / Awards: "Zlata ptica" 1992, Bienalu mladih, Rijeka, 1993.
Naslov / Adresa / Address: Marko Jakše, Mohorje 4, 1314 Rob, Slovenija
Tel / Phone: +386/ 61/ 789 069