Le Coco Fruiwear

Peformance: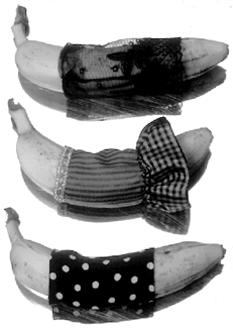 9. LE COCO FRUITWEAR
SODRŽAVLJANI! Potresni val nemorale je preplavil vsako poro našega vsakdana. Napada celo najmlajše, najbolj nebogljene med nami. Nezaslišano rušenje vsega, kar nam je sveto je očitno povsod, tudi na najbolj presenetljivih mestih. Dovolj je pogledati stojnice s sadjem našega mesta, da bi doumeli globino perverznih nakan sovražnika: vsak sadež, vsak plod je docela nag! Ta nezaslišana golota zadaja globoke rane prirojenemu smislu za red in moralo naših otrok, kar vodi naprej k vsem znanim in neznanim oblikam pornografije. Le Coco Fruitwear proizvaja oblačila, s katerimi se bo ta golota zakrila in se hkrati sadje naredilo okusnejše. Na ta način se Le Coco bori proti perfidnim poskusom antikrista, ki želi onesnažiti duše naših potomcev. Naj smela gesta ne ostane osamljena!
SUGRA\ANI! Potresni val nemorala preplavio je svaku poru naše svakodnevnice. Napada čak najmlađe, najslabašnije među nama. Nečuveno rušenje svega što nam je sveto očito je posvuda, i na najiznenađujućim mjestima. Dovoljno je pogledati tezge s voćem našeg grada kako bismo shvatili dubinu perverznih namjera neprijatelja: svaka voćka, svaki plod je sasvim nag! Ta nečuvena golotinja zadaje duboke rane urođenom smislu za red i moral naše djece, što vodi dalje ka svim poznatim i nepoznatim oblicima pornografije. Le Coco Fruitwear proizvodi odjeću kojom će se ta golotinja pokriti i istodobno voće učiniti ukusnijim. Na taj način se Le Coco bori protiv perfidnih pokušaja antikrista koji želi zagaditi duše naših potomaka. Neka smjela gesta ne ostane usamljena!
COMPATRIOTS! The thunderstorm of immorality overwhelmed every single pore of our everyday life. It attacks even the youngest, the most frail among us. The unheard-of destruction of all most sacred is evident everywhere, even in the most surprising places. We only have to look at the fruit stalls in our city to understand the profundity of perverse intentions of the enemy: every fruit, every single berry is absolutely naked! This unprecedented nudity inflicts deep wounds to the innate sense of order and morale of our children, leading to all known and unknown forms of pornography. Le Coco Fruitwear produces garments to cover this nudity and, at the same time, to make fruit more edible. Thus Le Coco fights against the perfidious attempts of Antichrist who wants to pollute the souls of our offspring. This brave gesture shall not remain isolated!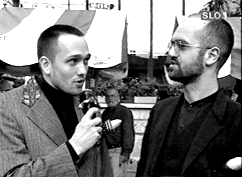 9. LE COCO FRUITWEAR
- VUK ĆOSIĆ, rojen 1966 v Beogradu. Diplomiral iz arheologije in odšel 1991. Živi, piše in dela diverzije med Ljubljano in Trstom.
- VUK ĆOSIĆ, rođen 1966. u Beogradu. Diplomirao studij arheologije i otišao 1991. Živi, piše i pravi deverzije između Ljubljane i Trsta.
- VUK ĆOSIĆ, born in Belgrade in 1966. Graduated in archeology and moved out in 1991. Lives, writes and creates diversions between Ljubljana and Trieste.
Samostojni projekti / Samostalni projekti / Solo projects: Dubrovnik - 1991; Ljubljana - 1992; Trst - 1992; St. Lambrecht - 1992.
Skupinski projekti (od 1985) / Skupni projekti (od 1985) / Group projects (from 1985): Beograd, Ljubljana, Subotica, Trieste...
Naslov / Adresa / Address: Vuk Čosić, Cesta na brdo 37, 1000 Ljubljana
Tel / Phone: +386/ 61/ 274 011
- MATEJ ANDRAŽ VOGRINČIČ, rojen 1970 v Ljubljani. Študent umetnostne zgodovine na Filozofski fakulteti v Ljubljani. Deluje kot modni oblikovalec (modni dodatki, ready-made pohištvo,...).
- MATEJ ANDRAŽ VOGRINČIČ, rođen 1970. u Ljubljani. Student povijesti umjetnosti na Filozofskom fakultetu u Ljubljani. Djeluje kao modni oblikovatelj (modni dodaci, ready-made pokućstvo,...).
- MATEJ ANDRAŽ VOGRINČIČ, born in 1970 in Ljubljana. Studies art history at the Faculty of Humanities in Ljubljana. Engages in design (fashion accessoires, ready-made furniture,...).
Projekti / Projects: "Ready made", galerija ŠKUC, Ljubljana - 1992; "Skate muzej" (Alenka Pirman), galerija ŠKUC, Ljubljana; poslikava SK8 T-shirtov, Ljubljana - 1993; projekt "Hiša" (Krojač za hiše).
Kostumografija / Kostimografija / Costume design: "Hej Salvador" - M. Pograjc & gledališče Glej - 1991; "Tarzan" - Ana Monro (asistent E. Kugler in M.M.Pungerčar) - 1992.
Naslov / Adresa / Address: M. A. Vogrinčič, Pavšičeva 6, 1000 Ljubljana
Tel / Phone: +386/ 61/ 553 961