Uršula Berlot : artist statement


Vanitas, 2012
Gallery Equrna, Ljubljana, Slovenia
The project Vanitas is a multi-media installation exploring the relationships between identity, perception and body in connection to the classical art theme - vanitas. It addresses the issue of today's difficultly defined border between mental, bodily, and technological, with a bias towards contemporary scientific theories concerning the neurological functioning of the body and anatomy. The project explores new forms of possible connections between art and science, raising the question of the role of (new) media in the development of both areas. It is based on a number of experiments using radiological techniques of body-screening (magnetic resonance, computed tomography.), carried out with the help of the Radiology Institute at the University Medical Center of Ljubljana.
The work Anatomical Transfiguration explores the effects of medical visualizations and mediation of the body interior upon the altered perception and valuation of the body today. In a broader perspective it questions the dichotomy between physical and mental, eternal and transitory, thus scoping the traditional theme of vanitas. The transfiguration of anatomical fragments recorded by conventional x-ray techniques into new aesthetic appearances realizes a re-contextualization of scientific medical imagery into the field of art. In technical terms, the project is based on the use of radiographs recorded with traditional x-ray technology. Contemporary medical practices are abandoning analogue radiological techniques in favor of digital visualizations, and as such, the work confronts the issue of an increasing obsolescence of conventional technologies.
Video Vanitas - Self-portrait shows the hypnotic image of continuous dissolution of the author's face, skull and brain. The repetitive liquefying interplay between the exterior and technologically seen exterior, posits the question of visible and invisible, physical and mental. However, the image of the skull is not only a metaphor for the transience of life and the inevitability death; in relation to the sound of a rhythmic respiration it evokes death as a faithful companion of life and its very faithful shadow, which illuminates the meaning and value of life, heightening the consciousness of human existence. (Collaborators: Scanner - Robin Rimbaud - sound; Sunčana Kuljiš - special effects).
The series of photographs entitled Self-portrait - Camera Oralis investigates the body in a particularly 'low-tech' way. Unlike other works in the exhibition, these images were not created by the use of sophisticated medical technology; rather, they were produced by a particular form of camera obscura created by the artist's mouth. Technically images are based on the use of a small piece of photosensitive paper installed in the mouth with the aperture located between her lips: the projection of light 'draws' an outline of the body observed and the exterior body is displaced in its own interior. However, the shape of the body, resulting in such an analogous process as an imprint of light, is not the only element determining the image; it occurs via a mixture of other types of imprints produced by the body itself - fingers, saliva, tongue, teeth, etc. The resulting 'visceral' self-portrait is permeated by corporeality and does not singularly 'represent' the bodily. (Collaboration: Uroš Abram)
The light work Fractal is part in a series of works dealing with the idea of the 'transparent body'. Formally the work is based on a radiological image of the brain, the use of light sensitive materials and the integration of non-material phenomena such as light projections and reflections. The diffracted image shows the branching of blood vessels and also, because of the vertical installment, resembles the structure of the pulmonary bronchi. The fractal structure of the corporal organ maps the invisible geometry of the body, while the light dematerializing the image suggests the impermanent and fragile essence of 'physical', whether organic or artificial.
The exhibition Vanitas involves diverse technologies that enable the visualization of the interior or exterior of the body and, in a broader sense, examines the 'ideal of transparency' characteristic of modern society. However, the search for a transparent body (in medicine and the arts) is actually phantasmagorical, revealing that there is always something we do not see, something that escapes the technologically induced - something that can only be felt and experienced.
Vanitas, 2012
Galerija Equrna, Ljubljana, Slovenija
Projekt Vanitas je večmedijska postavitev, ki raziskuje odnos med identiteto, zaznavo in telesom v povezavi s klasično umetniško temo vanitas. Odpira vprašanje danes težko določljivih mej med mentalnim, telesnim in tehnološkim, pri čemer se inspirira v sodobnih znanstvenih teorijah o nevrološkem delovanju našega telesa in anatomiji. Projekt raziskuje nove oblike možnih povezovanj med umetnostjo in znanostjo ter si zastavlja vprašanje o vlogi (novih) medijev v razvoju obeh področij. Temelji na različnih eksperimentih z radiološkimi tehnikami snemanja telesa (magnetna resonanca, tomografija.), ki jih izvajamo v sodelovanju z Inštitutom za radiologijo na Univerzitetnem kliničnem centru v Ljubljani.
Delo Anatomske transfiguracije raziskuje učinke novih (medicinskih) načinov vizualiziranja in mediatiziranja telesne notranjosti na odnos in vrednotenje telesa danes. V širši perspektivi preizprašuje tradicionalno dihotomijo telesnega in duhovnega, minljivega in večnega, vprašanja klasične teme vanitas. Transfiguracija anatomskih fragmentov posnetih s klasično rentgensko tehniko v novo estetsko podobo izvede rekontekstualizacijo znanstvenih - medicinskih podob v polje umetnosti. Tehnično gre za uporabo rentgenskih filmov posnetih s klasično radiologijo. Ker se v sodobni medicinski praksi uporaba analogne radiološke tehnike opušča v prid digitalnim vizualizacijam nas projekt sooča tudi z vprašanjem čedalje hitrejše obsolentnosti tehnologij.
Video Vanitas - avtoportret prikazuje hipnotično podobo kontinuirane disolucije obraza, lobanje in možganskega tkiva. Prepletanje zunanjosti in s pomočjo tehnlogije vidne notranjosti, razpira vprašanje vidnega in nevidnega oz. materialnega in duhovnega. Podoba lobanje - ki v klasični ikonografiji vanitas predstavlja metaforo minljivosti življenja in zavesti o neizogibni smrti - v odnosu do ritmičnega zvoka dihanja evocira smrt kot zvesto spremljevalko življenja, njegovo senco kot neločljivi dvojnik, ki daje smisel in vrednost samemu življenju ter zvišuje zavest o esenci človeške eksistence.
(Sodelovanje: Scanner - Robin Rimbaud - zvok; Sunčana Kuljiš - tehnična sodelavka)
Serija fotografij z naslovom Avtoportret - camera oralis preiskuje lastno telo na povsem 'low tech' način. Z razliko od drugih del na razstavi, le-ta niso nastala z uporabo sofisticirane medicinske tehnologije, saj so posnetki nastali s posebno obliko camere obscure ustvarjene z usti. Tehnično gre za uporabo majhnega koščka fotosenzibilnega papirja vstavljenega na dno ustne votline in zaslonke med ustnicami: drobna projekcija svetlobe izriše podobo opazovanega dela telesa na dnu ustne votline, telesna zunanjost pa se projicirana znajde v notranjosti. Vendar oblika telesa, ki nastane na povsem analogen način odtisa svetlobe ni edini dejavnik, ki določa podobo, saj ta nastane v prepletu vrste drugih odtisov lastnega telesa - prstov, sline, jezika ali zob. Tako nastal 'visceralen' avtoportret je prežet s telesnostjo in ne prikazuje le telesnega.
(Sodelovanje: Uroš Abram)
Svetlobni objekt Fraktal je nastal v seriji del, ki se ukvarjajo z idejo 'transparentnega telesa'. Formalno temelji na radiološkem posnetku možganov, uporabi svetlobno občutljivih materialov ter vključevanju nematerialnih svetlobnih pojavov kot so projekcije in refleksije. Razlomljena podoba prikazuje razvejitev možganskega ožilja in hkrati, zaradi postavitve, spominja na zgradbo pljučnih bronhijev. Fraktalno urejena struktura telesnega organa izriše nevidno geometrijo telesa, medtem ko svetloba, ki podobo dematerializira ponovno govori o minljivi in krhki esenci 'telesnega', najsi je to umetno ali organsko.
Projekt Vanitas z vključevanjem različnih tehnologij, ki omogočajo vizualizacijo notranjosti ali zunanjosti telesa v širšem smislu preizprašuje ideal 'transparentosti', značilen za moderno družbo. Vendar je iskanje transparentnega telesa (tako v medicini kot v umetnosti) pravzaprav fantazma, ki pokaže predvsem to, da nečesa ne vidimo, da vedno obstaja tudi nekaj, kar pogledu uhaja in kar lahko le občutimo in doživimo.


Introspection, 2010
Bežigrajska galerija II, Ljubljana, Slovenia
The subject of the Introspection project is perception and various states of consciousness in the form of recording and visualizing mental (cerebral) spaces. The project explores the role of the body and the function of the nervous system in constituting imaginary spaces, that is, conscious and unconscious mental spheres. It focuses on the possibilities of producing an aesthetic experience and investigates the conditions of the viewer's active role in constituting a work of art. The exhibition presents three spatial works with projections of videos based on radiological images of my brain. Using the functional medical technology of magnetic resonance imaging has enabled me to visualize the mental responses of my brain to specific visual stimuli.
The installations Kaleidoscopic Gaze and Spiral Floating are based on digitally processed radiological images of the activity of my brain during my contemplation of Duchamp's Anemic Cinema, which was conceived as an optic dispositive inducing a four-dimensional spatial-temporal perceptive experience in the viewer (by alternating the concave and convex effects of spiral swirling). The kaleidoscopic pattern of the video aims to similarly expand the viewer's perception and consciousness; the repetitive, hypnotic pattern of light projected onto an image on a mirror produces a layering of fractally fragmented reflections, that is, a virtual multi-dimensional space in motion.
The video installation Butterfly uses radiological images of my brain responding to different colors. The shape of a butterfly changing colors is formed by a light reflection of a video that is being projected onto a horizontal image on a mirror. It alludes to the concept of the "butterfly effect", which in chaos theory posits that slight, even infinitesimally small variations in the initial conditions of a dynamic system may produce extreme and unpredictable results in other circumstances of space and time: that a butterfly flapping its wings could set off a hurricane on the other side of the planet. The shape on the mirror is a graphically processed image of my brain; the reflection of a butterfly is a metaphor for the power of our "invisible" thoughts, our emotions, our so-called mental worlds, conscious or unconscious, that keep changing the physical reality surrounding us. Butterfly deals with the interconnectedness of the visible and the invisible and questions the causal relations between the perceptible and the intelligible.
Based on bringing together scientific theories about the neural functioning of our bodies with themes of art, the Introspection project uses visual media, medical technology, and photosensitive materials. Formally, it utilizes the processes of projection and reflection of light, that is, optical phenomena through which we directly enter immaterial worlds. In this context, light is an artistic medium creating, with its immateriality, fluidity, and mobility, analogies to what goes on in our consciousness or references to the spiritual dimension of reality.
Introspekcija, 2010
Bežigrajska galerija II, Ljubljana, Slovenija
Projekt Introspekcija se ukvarja z raziskovanjem percepcije in oblikami različnih stanj zavesti v smislu zapisovanja in vizualizacije mentalnih (cerebralnih) prostorov. Raziskuje vlogo telesa in funkcijo nevrološkega sistema pri konstituiranju imaginarnih prostorov oziroma zavestnih in podzavestnih mentalnih sfer. Osredotoča se na možnosti ustvarjanja estetskega izkustva in raziskuje pogoje aktivne vloge gledalca pri konstituiranju umetnine. Na razstavi so predstavljena tri prostorska dela z videoprojekcijami, ki so nastala na osnovi radioloških medicinskih posnetkov lastnih možganov. Uporaba funkcionalne magnetno-resonančne medicinske tehnologije je omogočila vizualizacijo mentalnih možganskih odzivov na specifične vidne impulze.
Instalaciji Kalejdoskopski pogled in Spiralno lebdenje temeljita na računalniški obdelavi radioloških posnetkov možganske aktivnosti med kontemplacijo Duchampovega dela Anemic Cinema, v osnovi zasnovanega kot optični dispozitiv, ki (z izmenjavo konkavnokonveksnega učinka spiralnega vrtenja) inducira štiridimenzionalno prostorsko-časovno zaznavno izkušnjo pri gledalcu. Kalejdoskopski vzorec videa je motiviran s podobnim prizadevanjem po razširitvi gledalčeve zaznave in zavesti; ponavljajoči hipnotični svetlobni vzorec, projiciran na zrcalno podobo, proizvaja plastenje fraktalno razlomljenih odsevov oziroma virtualno večdimenzionalni prostor v gibanju. Videoinstalacija Metulj uporablja radiološke posnetke možganske odzivnosti ob opazovanju različnih barv. Oblika barvno spreminjajočega metulja nastaja kot svetlobni odsev videa, ki je projiciran na horizontalno ležečo sliko na zrcalu. Aludira na koncept 'metuljevega učinka', ki v teoriji kaosa predvideva možnost, da lahko neznatna, pravzaprav infinitezimalno majhna sprememba v začetnih pogojih dinamičnega sistema povzroči izjemne in nepredvidljive posledice v povsem drugih prostorsko-časovnih okoliščinah: tako lahko naključen zamah metuljevih kril ustvari orkan na drugem koncu planeta. Oblika na zrcalu je nastala na grafično obdelani sliki lastnih možganov, odsev metulja pa metaforično govori o moči naših 'nevidnih' misli, čustev, t. i. mentalnih svetov, ki zavedno ali nezavedno nenehno spreminjajo fizično realnost, ki nas obdaja. Delo Metulj se ukvarja s prepletenostjo vidnega in nevidnega ter preizprašuje kavzalne odnose čutnega in inteligibilnega.
Projekt Introspekcija, ki je nastal na osnovi povezovanja znanstvenih teorij o nevrološkem delovanju našega telesa z umetniškimi vsebinami, združuje uporabo različnih vizualnih medijev, medicinske tehnologije in svetlobno občutljivih materialov. S formalnega vidika temelji na postopkih projekcije in refleksije oziroma vključevanju svetlobnih optičnih pojavov, preko katerih neposredno vstopamo v nematerialne svetove. Svetloba v tem kontekstu predstavlja likovni medij, ki zaradi nematerialnosti, fluidnosti in mobilnosti ustvarja analogijo na pojave zavesti oziroma referenco na spiritualno dimenzijo realnosti.


Pulsation / Cross-sections, 2007
Kunstlerhaus Bethanien, Berlin, Germany
Spatial light installation pulsation/ cross-sections consist of a heterogeneous group of works. Their individual forms and content are transposed onto each other, translated, reproduced or reflected by various media, coming together to form an artificial, yet seemingly organic mental landscape. Spatial installation of light and video projections, transparent pictures on plexiglass and mirroring images set on an aluminum supports come together to form a colorless and dematerialized landscape, which reflects cold, sharp and unusually glaring light, bringing together abstract, organic-like motives and immaterial elements as light reflections, projections and shadows.
A horizontal disposition of art works, crystalline and bio-amorphous in form, reflected in space with their elements projecting themselves onto each other, refers to nature, which in this artistic interpretation becomes unnatural, remote and utopian. Light installation conjure up a play in balancing the tension between gravity and levitation, transposing the material into immaterial, searching the intelligible in the sensual. Rather than reproducing natural landscapes it manifests the energetic mental, immaterial but nevertheless bodily constituted organic topologies.
Video works and fractal compositions are formally based on an x-ray scan of author's brain, as particularly these cerebral tissues present a unique point of contact and the indivisible link of the organic body with the energy-level mentality. The central part of this installation are two video works Pulsation, that present a pulsating light phenomena, the bodily/ organic and technologically generated hybrid as light apparition composed through the layering of light reflection, video projection of radiological scan of the artist's brain and its computer modified video recorded images.
The installation is conceived to form a metaphoric space of dissimilative analogies in a string of optical light effects, mirroring relations and replications, thus constituting a challenge for expanded perceptional experience and allowing the viewer to create ever-changing, imaginary, entirely individual mental landscapes. The installation creates a floating, volatile, ephemeral space of fleeting illusions and incorporated apparitions, oscillating between spatial and temporal dimensions of perception and offering to the viewer an open frame for his/her interpretations, inter-connections, creations of new connotations and an expanded (self)reflection.
Pulzija / Prečna presečišča, 2007
Kunstlerhaus Bethanien, Berlin, Nemčija
Svetlobna instalacija pulzija/ prečna presečišča predstavlja heterogeno skupino del, ki prevajajo in reproducirajo analogne formalno vsebinske elemente iz enega medija v drugega. Prostorska konstelacija svetlobnih in video projekcij, transparentih slik na pleksi steklu in odsevajočih del na aluminijevi podlagi ustvari umetno, brezbarvno, dematerializirano pokrajino, ki sije v hladni, ostri in nenavadno bleščeči svetlobi in združuje abstrahirane, organskim podobne motive s povsem nematerialnimi elementi, kot so svetlobni odsevi, projekcije in sence.
Horizontalna postavitev del, kristalinične in bio-amorfne oblike, ki se odsevajo v prostoru in projicirajo iz enega dela v drugega, se referirajo na naravo, ki v tej umetniški interpretaciji postane nenaravna, oddaljena in utopična. Svetlobna postavitev se igra z ravnotežjem med silo gravitacije in levitacije, prehajanjem snovnega v nesnovno, iskanjem inteligibilnega v čutnem in bolj kot naravni krajini ustreza energetsko mentalnim, nematerialnim, vendar telesno konstituiranim organskim topologijam.
Formalna osnova video del in fraktalnih kompozicij je radiološki posnetek lastnih možganov, saj je prav cerebralno tkivo edinstveno mesto stika in nedeljive povezave organsko-telesnega in energetsko-mentalnega. Ključen element postavitve predstavljata dve video deli Pulzija, ki predstavljata pulzirajoč svetlobni pojav, organsko tehnološki hibrid, generiran skozi plastenje projekcijskih postopkov: radiološkega magnetno resonančnega video posnetka lastne lobanje in računalniško manipuliranih posnetkov svetlobnih odsevov projekcij tega videa.
Postavitev, ki je zasnovana kot metaforičen prostor disimilativnih podobnosti v nizu svetlobnih optičnih učinkov, projekcij, zrcalnih podvojitev in replikacij ustvarja zaznavni dispozitiv za gledalca, ki v intenzivirani senzibilni percepciji subjektivno ustvarja vsakič drugačne imaginarne, povsem individualne cerebralne pokrajine. Instalacija vzpostavlja lebdeč, eteričen prostor efemernih iluzij in utelešenih prividov, ki oscilira med prostosko-časovnimi dimenzijami percepcije in ponuja gledalcu odprt okvir za njegove lastne interpretacije, iskanje vmesnih povezav, imaginacijo novih pomenskih vsebin in večjo (samo)refleksivnost.

Transitoriness 2006/07
Gallery Božidar Jakac, a monastic church in Kostanjevica na Krki, Slovenia
The exhibition Transitoriness is a site-specific light installation, conceived specifically for the meditative and monumental space of a former monastic church. The project explores the phenomenon of sensation and extended perception, from the most non-material manifestation of subtle conscious states to its cerebral physiological basis, living brain tissue. It concerns itself with states of consciousness, a fluid-energy current of alternating mental energies and spiritual states, which is inseparately linked with openness as well as the spatial and temporal multidimensionality of our perceptions. I am interested in the 'desubjectivation' of sensation which does not lead to chaotic conclusions, or in the 'stabilization of autonomic entities which have no connection to their carriers' (Deleuze, Guattari) and which surpass the object as well as the subject.
The dematerialized spatial installation in analogy to mental processes creates an abstract landscape of moving, waving light reflections and projections of crystal-like fractal forms, thus presenting a concrete disposition of an "object, created within our perception". Open forms of installations, with nonmaterial elements of shadows and reflections, extend into space and incorporate it into their body; dealing with the concept of dissolution of borders between the interior and exterior, transition of material into non-material, the real into the virtual … In addition to the kinetic light installations the exhibition includes two video presentations as well: 'Introspection' is an X-ray picture of the artist's brain, taken by means of medical technology. Computer-developed photos, providing this very concrete insight into the pulsative brain tissue, are also a formal basis of crystalline, fractal forms/diagrams, which alternate on the plexiglass of transparent objects. 'Virtual Vitreosity' is a kinetic kaleidoscopic video projection, simulating a stained-glass window in an architectural niche, which by recurrent color patterns makes a hypnotic and meditative impression, thus referring to the aesthetic and symbolic use of light in a sacred context. At the same time it calls into question the border between the real and the simulated, reality and fiction ...
Prehodnost 2006/ 07
Galerija Božidar Jakac, samostanska cerkev v Kostanjevici na Krki, Slovenija
Razstava Prehodnost je site specific svetlobna instalacija, zamišljena za meditativen in monumentalen prostor nekdanje samostanske cerkve. Projekt se ukvarja z idejo čutenja in razširjene zaznave, od najbolj nematerialnih manifestacij subtilnih zavestnih stanj do njene cerebralno fiziološke osnove, živega tkiva možganov. Obravnava fenomen zavesti, fluiden energetski tok spreminjajočih se mentalnih energij in duhovnih stanj, ki je nedoločljivo povezan z odprtostjo in prostorsko časovno večdimenzionalnostjo naših zaznav. Zanima me desubjektivacija čutenja, ki ne pripelje do kaotičnih zaključkov, oziroma 'stabilizacija avtonomnih entitet, ki nimajo nobene zveze s svojimi prvotnimi nosilci' (Deleuze, Guattari) in ki presegajo tako objekt kot subjekt.
Dematerializirana prostorska postavitev v analogiji z mentalnimi procesi oblikuje abstraktno krajino gibljivih, organsko valujočih svetlobnih odsevov in projekcij kristalom podobnih fraktalnih oblik, ter predstavlja konkretni dispozitiv 'objekta, ki ga ustvari šele naša zaznava'. Odprte forme instalacij, ki z nematerialnimi elementi senc in odsevov segajo v prostor in ga vkorporirajo v svoje telo, obravnavajo koncept disolucije mej med zunanjim in notranjim, prehajanj snovnega v nesnovno, realnega v virtualno… Poleg svetlobno kinetičnih instalacij razstava vključuje tudi dve video deli; 'Introspekcija'je z medicinsko tehnologijo posnet radiološki posnetek lastnih možganov, računalniško obdelane fotografije tega konkretnega vpogleda v pulzirajoče tkivo lastne notranjosti pa so tudi formalna osnova kristalnih, fraktalnih oblik/ diagramov, ki se ponavljajo na pleksi steklu transparentnih objektov. 'Navidezna zasteklitev' pa je projekcija v arhitekturni niši simuliranega kalejdoskopskega vitraja, ki s ponavljajočimi barvnimi vzorci deluje hipnotično, meditativno in se referira na estetsko in simbolno uporabo svetlobe v sakralnem kontekstu, obenem pa koceptualizira vprašanje mej med realnim in simuliranim, resničnim in fikcijo ...

2005 Attractions
I am interested in discovering subtle, invisible, intangible but manifestly present principles defining the nature and our perception. As my works of art using lights and translucent materials expose the immaterial and make use of some physical - chemical laws while in search of their form structure (gravity, crystallization, dripping and solidification of fluids.), so does the multimedia project 'Attractions' focus on magnetism - invisible physical phenomena visualized in many ways: through video, kinetic objects, air-brush drawings and photographies of enlarged configurations of particles.
Consequences of this invisible natural activity - audible and visual traces of metal particles affected by magnetic force, metaphorically speak about uncommon inner logic of apparently coincidental and chaotic (natural or mental) phenomena and in the same time reinvestigate the certitude of our cognitive capacity about the distinction between living and non-living, natural and artificial.'
Privlačnosti
Zanima me odkrivanje subtilno zaznavnih, nevidnih, netaktilnih a manifestativno prisotnih urejevalnih principov v naravi in na¹i percepciji. Tako kot dela s svetlobo in prosojnimi materiali izpostavijo nematerialnost in vkljuèevanje naravno fizikalno kemiènih procesov pri iskanju oblik (gravitacija, kristalizacija, kapljanje in strjevanje tekoèin...), se tudi veèmedijski projekt 'Privlaènosti' osredotoèa na fizikalen pojav magnetizma, ki ga vizualizira na razliène naèine: z kinetiènimi objekti, video zapisom, risbami in fotografijami poveèanih konfiguracij delcev.
Konsekvence tega nevidnega naravnega delovanja - zvoèni in vizualni zapisi premikov namagnetenih delcev, metaforièno govorijo o nenavadni notranji ureditvi navidez nakljuènih ali kaotiènih (naravnih in mentalnih) pojavov in obenem preizpra¹ujejo gotovost na¹ih kognitivnih sposobnosti o distinkciji ¾ivega in ne¾ivega, naravnega in umetnega...


2003 Crystal Shade
I'm relating my art to the notion of nature. I'm interested in elementary organic processes in nature, metamorphic states of light and matter and their analogies with mental phenomena in within our perception.

In my light objects I explore the relationships between material and immaterial, sensibility and intelligibility, transitional and eternal... The resulting optical illusory spaces are capable of setting unusual perceptional challenges for the viewer's individual experience of time and space.

Thus, I create new technological visual spaces, which sensitize the viewer's perception and open dimensions of consciousness that widely differ from those we are used to.


---

An Interview with Uršula Berlot
DELO (national daily newspaper), 13. November 2003

Overflowing Light

Translated fragment:
... Your work is indelibly marked by light. How do you capture it?
I have used light as a basic art element, a means of expression ever since my earliest work at the Academy, when I applied liquid translucent colors to create monochrome abstract landscapes. I was interested in transparency and an illusion of deepness in the painting, which made me look for light / dark contrast in particular. As this manner of painting is based on the formation of various degrees of light, I intensively looked for a spacious dimension of picture. Later I started using other transparent materials like Plexiglas, varnish, artificial resin, which required a special treatment of light sources and different ways of projection. In my latest work, where totally transparent material is used, I create shades, reflections, projections, that is to say immaterial extensions of an object.

Why artificial resin? What possibilities of expression does it offer to you?
This is a fluid substance, which in a chemical process solidifies, crystallizes, so that I can use organic fluid forms. It enables the stabilization of amorphous organic shapes (drops, formless stains...) and the handling of indefinite fluid material. Thus I touch upon the question of coincidence and horizontality. I make use of different procedures to obtain shapes: either by artificial resin, which drops through nets and is applied in organic forms to Plexiglas, or by bending Plexiglas, projecting light upon or through it and creating immaterial shades, projections and reflections. In this manner I extend the margins of the work of art, which spreads in immaterial elements, and thus create incorporeal and intangible phenomena.

To what extent does your work include coincidence?
I know precisely enough what kind of structure I want and get by using a particular procedure. A degree of deviation is possible, so coincidence does play a certain role, but only within the process, since I do not change the conceptual content of the work. As far as content is concerned, there are no deviations, I do not intervene in the process of forming shapes by any gesture. Though it may seem paradoxical, coincidence is thus controlled and whatever appears is correct, if I use this awkward word. A procedural way of creating a work of art is concerned here, because my work is closely tied to the idea of nature. In my procedures I make use of gravitation, decantation and solidification of material, organic forms, horizontal dimensions and laws of coincidence and entropy, which are all essential in nature.

Is nature the basic lever of your creation?
I am inspired mostly by elementary physical and chemical processes of natural phenomena and elementary states of light and matter.

What is the importance of space in your setting?
Space is of prime importance on many levels. I am interested in inter-space, a space of relations, a relative, virtual, imaginative and subjective space. What is important is the setting and the position of works of art in a concrete space as well as imaginary relations among them established by the viewer. I am also interested in the space of the object of light. Transparency of Plexiglass erases boundaries of inner and external space, while light causes a transition of material into immaterial, a passage into an illusionary space. Thus I create intermediary territories of visionary spacial movements. Tansparency of glass acts as a mirror, its reflection is not only turned back but can also be seen through. In the intersection of reflection and transparency there openes a mobile, virtual image. However, presently I have developed more interest in the openness of space and dimension of divergence rather than in depth.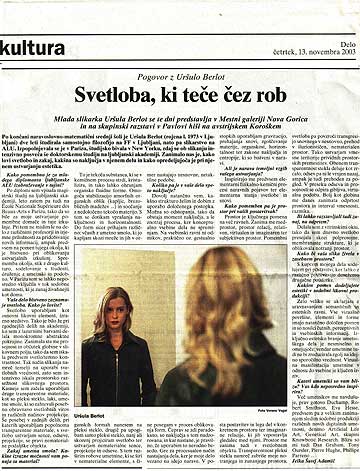 An Interview with Ur¹ula Berlot
DELO (national daily newspaper), 13. November 2003
---

biography

contact

portfolio

exhibitions

cv

artist statement



home
---