NEWS:
05.10.07:
Fixed the broken download link to the mod files. You can now get the mod here.

Julian


10.9.07:
Welcome to the final home of the Escape From Woomera project, archived here by the grace of selectparks.net.

If you want to get in touch, here's a contact email that actually works:
escapefromwoomera at gmail dot com

And now for a long overdue revealing of the names of the other half of the project team. We had to keep these identities secret for professional reasons.


Missing from the "Team" page on this site are:

Katharine Neil (aka 'Kipper'), Creative Director.
Ex-Atari Melbourne House and now living in France. Her blog can be found here.

Matthew Jones (aka 'Matt Harrigan'), Programmer.
Ex-Atari Melbourne House technology group lead now working for Electronic Arts in the UK.

Duncan Murray (aka 'Darren Taylor') Programmer.
Currently at Krome Studios Melbourne House doing guru things.

David Jewsbury, Programmer.
Recently quit his job as Technical Director of IRGurus to travel the world.

Monique Jones, UI Artist and Web Designer.
Now a Melbourne-based architect.


So there you go, four years on. "Are games 'Art'?", I still hear people ask. But what does it matter? Art is dead. Long live games.
- Kipper


07.05.04:
An "almost finished" (apart from a couple of changes to textures and some gameplay tweaks) version of the prototype is available for download.

How to install and run:
--------------------------
* EFW is a modification of Half-life and it requires a registered copy of Half-life to run. If you have an old version of Half-life, install the HL patch.
* Extract EscapeFromWoomera_v084.zip to your Half-life directory.
* From your EscapeFromWoomera directory, run RunEscapeFromWoomera.bat

In the UI:
* Make sure the video mode is set to DirectX or OpenGL (it won't run in software mode)
* Select "Custom Game" then EscapeFromWoomera_v084
* In game, press the H key for help


05.02.04:
The Australian-based Street Survivor project have put EFW in their game universe!
They sent us this screenshot rendered off by their artist.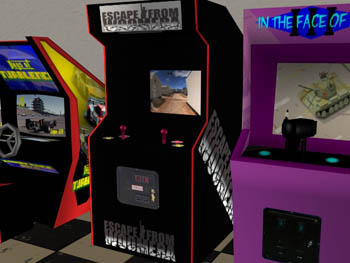 The team don't have anything up on the web about the project yet, but according to some info the director sent us their aim is to "bring together stories that are based on the lives of young people who are homeless or at risk of homelessness. Street Survivor aims to both fully engage young people in the game and also provide real information of use to young people who may find themselves in these or similar circumstances....The prototype of Street Survivor currently being developed is a first draft version of what would be the first level of the fully developed game. In this level, a sixteen year old girl leaves her home due to domestic violence and finds herself on the streets of the CBD of Melbourne....It is the player's ability to maintain her health at a sustainable level (by communicating with the right people, in the right way, by seeking help, by finding useful information) that will ultimately enable her to survive and win the game."

The Street Survivor team plan to present their prototype at the Australian Independent Game Developers' Conferencein May - which incidently the EFW crew will be involved in too. For info/discussion about the conference visit sumea.




03.02.04:
Finally, the EFW prototype is close to public release. We demoed an early version at the Rotterdam Film Festival last month, but we've got some testing and bug fixing to go yet. In the meantime, thousands came out in Europe to protest against detention centres last Saturday. It's a good reminder to those of us in Australia that the treatment of refugees as criminals is an international issue that's still heating up...




28.11:
OK we've been quiet lately - but that doesn't mean we haven't been working! We've got some new screenshots of the new parts of the map Steve's been working on. And before all you Half-life fans start asking "where are the scientists" when you see that indoor shot: that's actually pretty much what the Woomera IRPC kitchen looks like - honest!




01.10:
Check out some lovely detention centre scenery in our trailer here. We cut this together pretty quickly a few months ago so it doesn't represent the stage we're at now, but it has a pretty good fly-through of our Woomera IRPC map.




10.09:
Welcome to our new, friendlier web presence.You can spot us in a few 'real world' places too over the next month:

Julian will be in Amsterdam on September 11-14 to talk about EFW at the Next Five Minutes - International Festival of Tactical Media. A couple of weeks later in Newcastle (Australia) we will be demonstrating an early prototype at Electrofringe, as part of the This Is Not Art festival in Newcastle in early October then the following week in Sydney at the Plaything conference.

If you want to be kept up to date with project developments, you can subscribe to our newsletter here.



---
ABOUT THE GAME:



If you thought escaping from Castle Wolfenstein was hard, try Woomera Immigration Reception and Processing Centre...

With a first person, 3D adventure game we invite gamers to assume the character of, and 'live' through the experiences of a modern day refugee. The effective media lock-out from immigration detention centres has meant that the whole truth about what goes on behind the razor-wire at Woomera, Baxter, Port Hedland, Maribyrnong and Villawood remains largely a mystery to the Australian public. We want to challenge this by offering the world a glimpse - more than that even: an interactive, immersive experience - of life within the most secretive and controversial places on the Australian political and geographical landscape. In this way, Escape From Woomera will be an engine for mobilising experiences and situations otherwise inaccessible to an nation of disempowered onlookers. It will provide both a portal and a toolkit for reworking and engaging with what is otherwise an entirely mediated current affair.






Why Escape From Woomera?

The videogame is the most rapidly evolving, exciting, subversive and feared cultural medium in the world today. It's akin to graffiti on the cultural landscape. As such it is ripe for an injection of interesting and progressive ideas that can effect social change. We are a team of game developers, digital artists and media professionals, committed to the videogame medium - not merely as a vehicle for conceptual new media art or profit-driven entertainment - but as a free, independent art form in its own right. The creation of Escape From Woomera is part of a larger goal: the rise of a counter-culture of developers and gamers who create and engage with game art outside the mainstream corporate industry.




copyleft escapefromwoomera.org


In some detention centres, detainees get 'paid' around $8 for a full day's work (eg cleaning and cooking). Instead of accruing money they get 'points'. (1 point per dollar in Woomera). Detainees can use this money to buy basic items such as cigarettes in the camp shop.





The Game is the ultimate piece of art, capable of incorporating all forms of art and expression known to humanity, expressed using all forms of technology, from the ancient to the bleeding edge, without compromising its identity as a game. - zerogame manifesto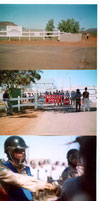 This project has been assisted by the Federal Government through the Australia Council, its arts funding and advisory body.