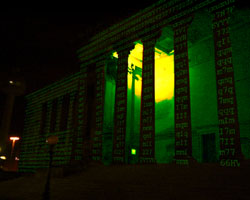 Executive Summary
The project consists in fully covering the St. Georges Hall with the projection of ascii rendering of the same surface that it's being projected on.
Special Theory of ASCII Architecture
Several loosely linked considerations and coincidences encircle the choice of location and shed light on the concept and aesthetics of this artistic intervention:
#1.1 ASCII art has several interesting overlapings with neoclassical style -- they both strive for some ideal aesthetics and ethics of romaniticized past times.
#1.2 The relief representations of justice on the facade that have created considerable turmoil in victorian Liverpool in the 1850ies were made on Istria marble.
#1.3 St. George is the patron saint of Ljubljana.
General Theory of ASCII Architecture
ASCII thoughts relevant to this work are briefly summarized through few fragments of text.
Technology industries and the entertainment sistem (as well as art sistem) are offering us the scenario of glorious hypermediated & immediate specacle, hopefully also interactive and beautiful and sublime. These promises are made by makers of modems and CPUs, and artists have a CHOICE whether to participate in this future of theirs.
Nowadays, the curatorial decisions in too many art places are aimed at justifying hardware investment. So – while we are talking of the activity formerly known as art – I do ASCII.
Grand Unifying Theory of ASCII Architecture
The ASCII Architecture project is a logical continuation of my research in non-realistic and non-narative possibilities of early computer technologies in latest times. After moving ASCII, ASCII sound and the Instant ASCII Camera, this is the first serious step in the direction of three dimensional ASCII which is considered to be the Holly Grail of hackerdom.