Fimipidipi in pot do srca / Fimipidipi and his Voyage to Heart



author:

Sasa Kerkos
design: Sasa Kerkos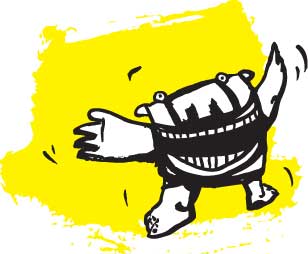 edition:

Minimundus #1
editor in chief and in charge: Katerina Mirović
publisher: Stripburger / Forum Ljubljana
print: Cicero d.o.o.
print run: 1.000 issues, june 2006
Fimipidipi was cofinanced by City Ljubljana - Depratment for Culture and Ministry of Culture of Republic Slovenia.
pgs: 56

It targets people who sleep and therefore can't hear love that's been waiting there for a long time knocking on their door. These people simply need to open their eyes and let Fimipidipi in! The book is also appropriate for small children.