is a project focused on lighting installations in galeries and public spaces took place in late May and June in Ljubljana and Kranj. Artists from various countries took place andbesides the exhibitions, audience was able to attend lectures/presentations and watch the perfromance. Most of the installations were produced for this event.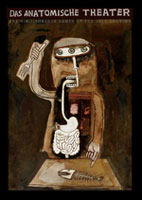 Das Anatomische Theatre is a multimedia

project by Milorad Krstic. The simultanies games of the 20th century, where 20

th

century is placed on a dissection table.Book featuring 392 full colour pages and

exhibition.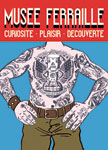 Ferraille Museum is a museum established by French association Les Requins Marteaux. It's the first exhibition devoted to this mythical comics character Monsieur Ferraille. It's a epic story about commercial success of Monsieur Ferraille. The exhibition and screenings of the short films in production of Les Requins Marteaux are accompying program of the 27th Graphic Biennalle.

Strip Core Sept. - Oct. 2007,
exhibitions, jam session, screening, perforamance, puppet theatre, publications, presentations...

Detektivi svetlobe / The Lighting Detectives is a festival focused on lighting in urban spaces. First edition was dedicated to Transnational Lighting Detectives international association .

Strip Core October - December 2006,
exhibitions, workshops, publications, presentations, contest...

Strip Core June - August 2006,
exhibitions, workshops, publications, presentations, contest...

Strip Core March - June 2006,
exhibitions, publications, presentations, puppets...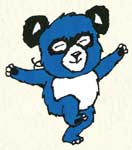 Viva i fumetti / Zivel strip - concorso per ragazzi / letni mladinski stripovski razpis / yearly youth comics contest



Prebucna samota / Une Trop Bruyante Solitude / Prilis Hlucna Samota is a serial of events considering Czech writer Bohumil Hrabal. Une Trop Bruyante Solitude is a comics album created by French artists Ambre (drawing), Lionel Tran (script) and Valerie Berge (photos). An exhibition by these artists will take place at the Kapelica gallery in Ljubljana, a round table about realtion bettween literature and comics will follow, workshop on scriptwriting and projection of film Praznik zvončkov directed by Jiri Menzel and based on a story by Bohumil Hrabal.

Strip Core Collection Winter - Spring 2005,
exhibitions, publications, presentations

Strip Core Collection Fall - Winter 2004,
exhibitions, screening of animations, workshops,puppet theatre performances (in Slovene only)

Cultural Politics vs Art, satiric installation, 2004
(in Slovene only)


Strip Core 8999,
at the 10th anniversary of
Strip Core



Strip Core 1989-95
The premiere of the Strip Core 1989-95 project was held on 14 April 1995 in the Mladinsko theatre

in Ljubljana. The project consisted of an exhibition of graffiti and posters created by Strip Core, and of comics published in Stripburger. There was also a video presentation of the whole Strip Core art production, including publications, videos and documentaries of previous events organised by Strip Core. Of course, a live show by 2227 wasn't missing, and the project was marked by a new issue of Stripburger (No. 6), the release of the second CD by 2227, entitled No Brains No Tumors, and the publication of the Strip Core 1989-95 catalogue of postcards (featuring graffiti, posters, Stripburger covers ...) presenting all fields of Strip Core activities.


Anti-nazi was a multimedia event produced by Strip Core and coproduced by V.S. Video and the Bris art group. It took place in the Channel Zero club at the Metelkova former army barracks squat in October 1993. At that time the Strip Core crew took care for the programme in the club which closed down already in April 1995.

The project linked various artists working at Metelkova or supporting the Metelkova activities; with their creative approach they aimed to respond to the aggression expressed by those sharing ideas of nationalism, racism, etc.
The programme:
Video: V.S. Video, Bris, Marko Kovacic.
Exhibition: Strip Core, Boris Bacic, Bris, Koko Art, Mizz Art.
Music: 2227, Lolita, Apatia (PL) 9 Oct. 1993 - 28 Oct. 1993.


The Never Ending (His)Story project consisted of a special edition of Stripburger, entitled Never Ending (Hi)story, and an exhibition of the same title. This 8th number of Stripburger was published in the form of the 1996 calendar; it contains 12 works selected from those applied to the Anti-Nazi

contest for a one-page, black-and-white comic strip related to the struggle against all forms of intolerance. On 28 Nov. 1995, the publication day of this Stripburger issue, the opening of the Never Ending (Hi)story exhibition with the selected 12 works was held in the KUD France Preseren Gallery in Ljubljana.
The 92 Project,which took place in January 1992 in KUD France Preseren, was the first project by Strip Core in which the visitors were able to witness the results of various Strip Core creativity at one spot.

The project consisted of a multimedia graffiti exhibition (the first graffiti exhibition by Strip Core) and a show by 2227 with guests, an Umag (CRO)-based band Space Cakes. Every visitor was served a Strip Core cocktail.