slo
SPRING OR NIGHT MARE IN SERBIA:
Stratimirovic
koja se iznenada
pojavljuje i resava
stvar
Kuri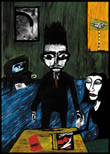 At the 10th anniversary of active life of the Strip Core multimedia association we're presenting the Strip Core 8999 project.

Strip Core was founded 1989 in November 1989 on the initiative of young artists previously working in the Hard Core Kolektiv (HCK), which was disbanded in October 1989. While the members of Strip Core continue the tradition of HCK activities, e.g. organisation of concerts and multimedia events, the new emphasis has been laid on their own art production. The Strip Core members have been working on the field of visual arts (fine arts, design, video, photography) and music (the 2-2-2-7 music group).

In October '92 the first number of Stripburger, fanzine covering comics, graphics and photos was published by Strip Core. In December 1993 followed next double issue following a concept of underground comic magazine. Stripburger is still the only Slovene comic magazine covering news in comics, theories on comics and works of Slovene and foreign comic authors (there have been 20 numbers released yet). As a part of activities of Stripburger there have been held various comic exhibitions in Slovenia and abroad. In the past years Stripburger has had a large influence on changing attitude towards comic art in Slovenia. It has become an important source for what's going on in comic scene abroad, especially in Europe, for Slovene comic fans and for foreign followers of comic art a source for what's happening on Slovene comic scene. Stripburger has encouraged many Slovene comic artists to continue to produce comics and work on developing their style. Besides publishing the magazine the Stripburger crew does also organize comic exhibitions and other events dealing with comics. In the new regular issue, Stripburger #25, a section is dedicated to Italian comics scene and another section to comics made in Yugoslavia in the time of NATO bomb attacks of Yugoslavia.

First decade of Strip Core's active life was marked especially by graffiti and the 2-2-2-7 music group, that has appeared on several CD samplers ((SLO I.R.P. 1/92, No Border Jam No. 2, Elvis de Luxe Saundtrek, Eye - Sore, OX - Compilation # 23 (D), Youth Against Policial Violence! (Deifer records, Chile), Tavagnasco Rock '99 (Spazio Futuro, I), 1989/99 K4-RŠ)), in December 1993 Strip Core released their debut CD Stripcore, followed by the video clip I've Seen That... Like It Is, produced by Strip Core & V.S. Video / Forum Ljubljana. The second CD by 2-2-2-7, entitled No Brains No Tumors, was released in March 1995, and in June 1995, when the band appeared on the Druga Godba [The Other Music] festival (also featuring Marc Ribbot and Klezmatics), the 7" vinyl Šarlo budi nežan with three previously unreleased tracks followed. In their energetic live performances (over 150 shows in various European countries) 2-2-2-7 proved themselves as a real live attraction. 2-2-2-7 are also authors of the music for Sanjam spomin a se spominjam sanj performance by the Fourklor physical theatre. This year 2-2-2-7 split up. As part of the Strip Core 8999 project there will on 23rd December in the Channel Zero club in Metelkova City premier screening of the 2-2-2-7 Live video (Channel Zero, 19th June 1998) directed by Rok Sieberer - Kuri.

In 1995 photographer Damjan Kocjancic and freelancer Terrah joined Strip Core.

Damjan Kocjancic, the graduated photographer, who was awarded by Professional Photographers of Europe in 1997 the 1st award for collection in fine art photography, is the author of the photos and (co)designer of the poster and CD Bi Bi Bi Sabi of the 2-2-2-7 band, for which he designed lights on their shows. Author exhibits as an independent artist and takes part in the Strip Core projects. This time he will present a part of the Face - Portraits of Metelkova People serial.

Terrah, the freelancer and the author of the saying:" Strip Core is the state of conscience - art is a recyclement", is the one that appeared on the Maj vej song by 2-2-2-7, and has presented himself in the last years in Metelkova City with serials of collages: Retrometelkova (May 1997), Psyche (Sept. 1998) and Fake Collage (June 1999). He takes part in Strip Core projects. This time he will exhibit the Rastafarisafari serail of painted collages. In this serial the artist is pointing out the third dimension of the bright sites of life. As a part of the Strip Core 8999 Terrah's book Triptih, the literary-fine art story, in which author is touching the third dimension of dark sites of death, will also be presented.

Rok Sieberer - Kuri, is with his video production is taking documentary notes of Strip Core's activities. Parallely, as a Media Teror production house, he's creating his own author video production. Besides the 2-2-2-7 live video, he will set up the Too Blind to See installation and the Notebook archive.

Andrej Štular, known especially for his comics published in Stripburger, will as a part of the Strip Core 8999 project set up the exhibition Skrana - selection of comics and painting from his latest period. Also his short-film production will be screened. Author, that joined the Strip Core multimedia group this year has in Slovenia gained several awards for photography, film and comics, he's regulary exhibiting and is leading the Perspective gallery in Strahinj near Kranj.

The new production of Strip Core will be presented at the various places in Metelkova City, where most of the authors are working. Film, video and music program will take place at the homely Channel Zero club.

Guests of the Strip Core 8999 project will be the Belgrade artists, that will create the the Spring or Night Mare in Serbia program. Hats Theatre and Neocekivana sila koja se iznenada pojavljuje i resava stvar (The Unexpected Force That Is Appearing Suddenly And Saving the Thing) are at the first glance two different things, but in fact, they are connected by several things. Both started few years ago in the time when because of the situation it was hard to creatively work on something that isn't directly connected to political and social reality. Since then they have created quite some common projects. Persistence on their own idea and not following the trends are of great importance in their work.
A special tendency in alternative scene was created, which work is based on the multimedia principle and therefore on combination of all views in visual arts and musical directions, for which the members of this groups think that play an important role in the contemporary times.
Openness of the artists towards what's going on on the contemporary art field and at the same time a clear vision, are the base to the projects that belong on the top of the European art production.
The closing project of the Spring or Night Mare in Serbia program is a coproduction of Hats Theatre and Stirje pravi dedci, a Slovene music group.