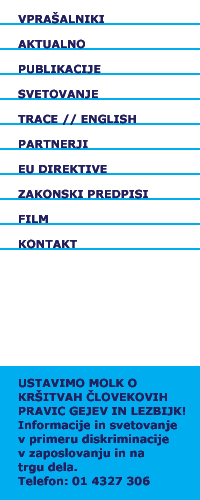 TRACE: TRANSNATIONAL COOPERATION FOR EQUALITY
Employers, trade unions, governmental
public bodies, researchers and NGOs working together against discrimination on grounds of sexual orientation - that is TRACE, Transnational Cooperation for Equality.
The project TRACE is founded under the EU programme Equal, a programme aiming at combating discrimination in working life. The project involves four countries: France, Lithuania, Slovenia and Sweden. The common interest is to abolish discrimination and the inequality of lesbian, gay and bisexual persons in the area of employment and enabling LGBT persons to work under circumstances that are equal to their colleagues'.
It is a fundamental human right to live, work and love in accordance with your true identity. Nevertheless, lesbians, gay men and bisexuals are facing negative attitudes in their working places.
// PARTNERSHIP FOR EQUALITY
(power point presentation)
// TRACE (ILGA-Europe Conference Paris)
(power point presentation)
PARTNERJI