Photographs of Budapest by Milorad Krstic
opening: Thursday, 9th Nov. 2006 at 7 p.m., Fotografija gallery, Ljubljana
The exhibition will be on until 21. Nov. 2006.
Gallery is open from Tuesday to Friday from 12.00 to 7 p.m. and on Sathurday from 10. a.m. to 2 p.m.
"…Milorad Krstic's photographs are often traceable quotations from art history. They lead us from the figurative world of mannerist sculpture, the winter figures of Pieter Brueghel, via Caspar David Friedrich's rocks and clouds to the images employed by Sergei Eisenstein in his films and to the avant-garde counter positions." (János Kurdy Féher)
"… Budapest by Milorad Krstic embraces and bridges the powerful, but dark waters of the Danube, "the most beautiful street of Budapest" as Eszterhazy calls it, under the dramatic skies and heavy, threatening clouds. Ordinary people, unwanted architecture, dirty streets, when captured in a dramatic contexts, can become immortal and get a new, artistic dimension.
Even those who were born and grew up in Budapest many times do not recognize at first glance the sites featured on Krstic's photographs. But they often fall in love with them – the photos have so far been featured on the billboards, in magazines and books representing the city as the candidate for the 2010 European Cultural Capital. They were exhibited in MEO Contemporary Art Collection exhibition Paris + Klein + Budapest + Vancsó + Krstic." (Nebojsa Radic)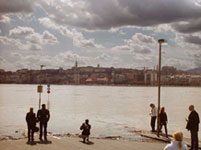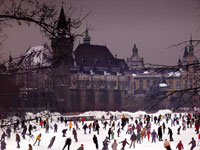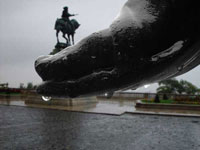 "…Prince Eugene of Savoy gallops away from the Buda Castle, and Saint Gellért seems to be exorcising the sinful city. Krstic's photos are shot from unusual perspectives at unusual times of the day through colored lenses: you'll be surprised again, if not by the artistic values then by the hidden curiosity of familiar sights." (The Budapest Sun)
Budapest de Milorad Krstic. Un grand nom de la photo en Europe Centrale, des vues magnifiques, des ciels d'orage fabuleux. A découvrir! (LBProd.net)