SLO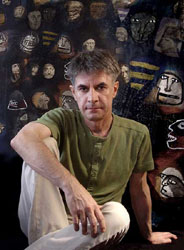 Milorad Krstic was born in Dornberk, Slovenia, in 1952. He graduated from law at the University of Novi Sad, Serbia, in 1975. Since 1989 he lives and works in Budapest, Hungary, as

painter and multimedia artist

. He had solo exhibitions in Novi Sad, Sarajevo, Zagreb, Dubrovnik, Belgrade, Stuttgart, Nürberg, Frankfurt, Oudehaske, Budapest, Kaposvar, Szeged, Györ.
Awards:
for animated film "

My Baby Left Me

"
- Silver Bear Award at 45. International Berlin Film Festival 1995)
-

The Best First Film Award at International Festival for Animated Films
"Annecy 1995"
- The Best Graphics,The Best First Film, Film and TV Critics Award at
International Festival of Animated Films Kecskemet 1996
-

Prize of the MEDIAWAVE Foundation, Gyor 1996
for interactive CD-ROM "

Das Anatomische Theater

"
- MIFA awards for The Best Interactive Project, "Annecy 1999"
- NOVACOM award, Budapest 2000
Projects:
2006

(Ongoing) "Das Anatomische Theater" multiproject
"The Adventures of Liam Grant" II – Liam in the Sahara
(A picturebook for children),
2004-2005

"Das Anatomische Theater" (An Illustrated Book of the Twentieth Century)
"The Adventures of Liam Grant" (A picturebook for children),
"Pegam and Lambergar" (A comics)
2003

"Budapest" (Photoalbum)
"The Family" (A comics)
2002

Stage design for "The Tragedy of Man" drama of Imre Madach –

performance for the opening
of the new

Hungarian National Theater
"
Budapest" Documentary film
2001

Screenplay for "UNDO" feature film
2001

Set design for the film "Béla Bartók: The Miraclous Mandarin" (directed by Márta Mészáros)
2000

Screenplay for "Zebra Zone" short film,
"Pepe & Bob" online comics
"Bite" online comics
Screenplay and graphics for animated film "Motel",
"The New York story" (A comics)
1999

"Das Anatomische Theater" interaktiv art CD-ROM, with Radmila Roczkov
1997

Screenplay for "Mou-Mush", animated film series
1996

Stage and costume design for Sámán Theather – balett piece of
"
Alakoskodók"
(directed by Horváth Csaba)
1995

"My Baby left me", animated film (music: Wahorn András)
1994

Stage design for Honvéd Ensemble Budapest – the play
"
Szenvedély",
the life story of Déryné in 96 minutes (directed by
László Lantos- Tricepsz)
1991-1995 Illustrations for weekly magazine "Budapest Week"