slo
SPRING OR NIGHT MARE IN SERBIA:
Stratimirovic
koja se iznenada
pojavljuje i resava
stvar
Kuri
"WINTER OR DREAMS OR TRAVEL IN ALL DIRECTIONS"


"The Space Awarness Investigation authority of the Universal Kingdom has sent its special agents on a unique and very complicated mission of data gathering in order to resolve the Poission's Bracket, a complex mathematical formula wich solves the problem of teleportation, transportation of an object from point X to point N, i.e. from point A to point B, i.e. travel in all directions without any movement...The mission of this team of special secret agents is to travel from planet to planet and collect parts of this mysterious
formula while using very special hats outfitted with the futuristic perception devices of the Communications Age..."

idea, director, costumography: Ljudmila Stratimirovic
text: Radisa Vaseljenovic
music: Nemanja Acimovic, Dejan Utvar
video: Nikola Majdak jr.
comics: Aleksandar Zograf
participating: Tatjana Rokic, Aleksandra Stratimirovic, Tatjana Zakic

Premier of the Winter or Dreams or Travel in All Directions performance was in December 1997 in Rex (Belgrade, YU).

Duration: 45 min.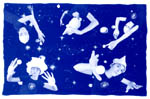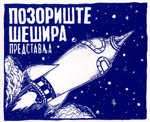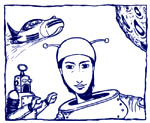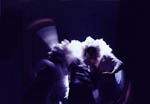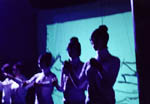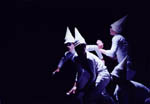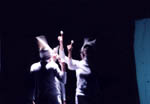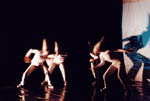 download: photo1, photo 2, photo3, photo4, photo5, photo6, photo7, photo8