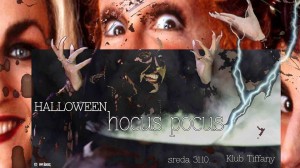 t's the most wonderful time of the year! A time to dress up, or dress down, stuff your face with curious creations, be someone else for one night, worship the devil, honor Satan, venerate Jessica Lange, bathe in virgin blood, it's Halloween!
Beware of the mischievous Sanderson sisters!
They are brewing a potion with which to suck the life force out of young or young like queers to use as their own.
Find your true ghotic self and rave to the grave.
Več o dogodku: TUKAJ