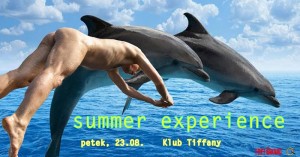 Poletje se še vedno bohoti v vsej svoji vročini.
Zato vas vabimo na osvežitev v klub Tiffany, kjer boste ob hladnih koktajlih in vročem DJ setu preplesali noč.
ENG
This Friday summer experience party will sparkle and shine like rare gem amidst cheap bids & pearls.
Revel in good music and immerse yourself in to the heat of the night.
Sing it! Dance it! Love it!
Klub Tiffany – najbolj queer zabava v mestu.
Več: TUKAJ