Save the best for last! Pridružite se nam na zadnjem poletnem roza dogodku in ne zamudite zadnjega dogodka Kluba K4 v tej sezoni. Tokrat s prvo drag hišo v Sloveniji – House of Kunt v glavni vlogi.
Pridi še ti in se prepusti mehurčkasti norosti poletnega vajba!
The summer is crazy!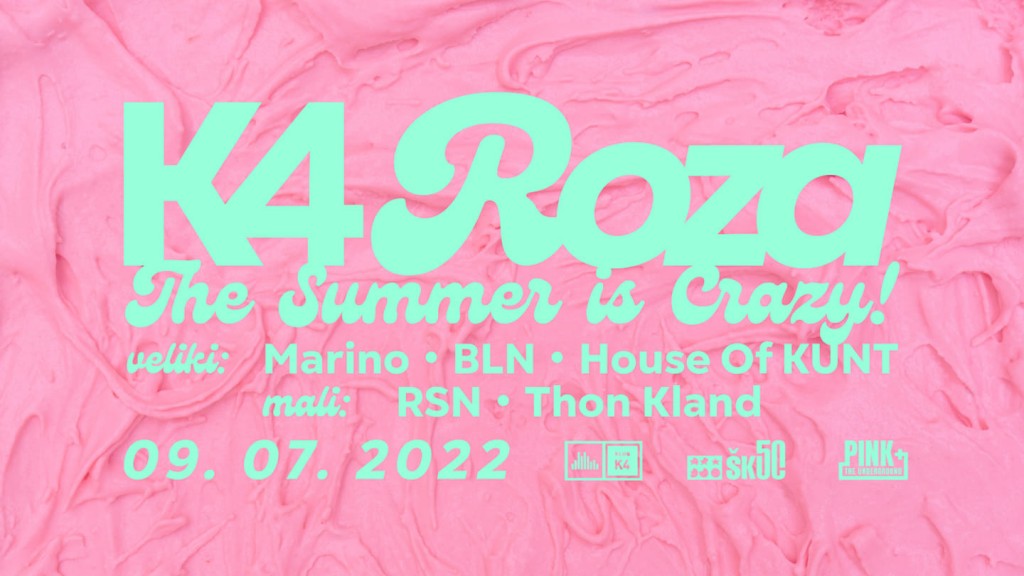 Veliki (pop/house): Marino         BLN        House of Kunt
Mali (techno): Thon Kland           RSN
Artwork: Vera Vulva
___________________________
KLUB K4
Kersnikova 4, Ljubljana
www.klub-k4.si // www.facebook.com/klubk4
STAROSTNA OMEJITEV / AGE LIMIT: 18+
VSTOPNINA / ENTRANCE FEE:
10 €
INFO: info@klub-k4.si
GARDEROBA / LOST & FOUND
k4garderoba@gmail.com
Organizator:
Društvo ŠKUC // Pink. The Underground
www.skuc.org // www.facebook.com/PinkTheUnderground
INFO: info@skuc.org