Sobota, 17. 12. 2022, ob 23. uri, Klub K4, Ljubljana.
Vabimo vas na zabavo ob zaključku 38. festivala LGBT filma. Festival je bil prvič organiziran leta 1984 v okviru festivala Magnus in velja za najstarejši LGBT filmski festival v Evropi.
Tokrat se bo klub K4 prelevil v leglo boemske opojnosti, norosti in sladke fimske dekadence. Na velikem odru vas bo navdušil zdaj že legendarni duo Papi&Naj. Na malem pa se nam obeta pravo tehno potovanje z maioB in dvojcem Oneness.
Bleščavi spektakel pa se izza mešalnih miz preliva tudi na oder, kjer bodo zvezde iz filmskega platna oživele skozi nastope kraljic preobleke.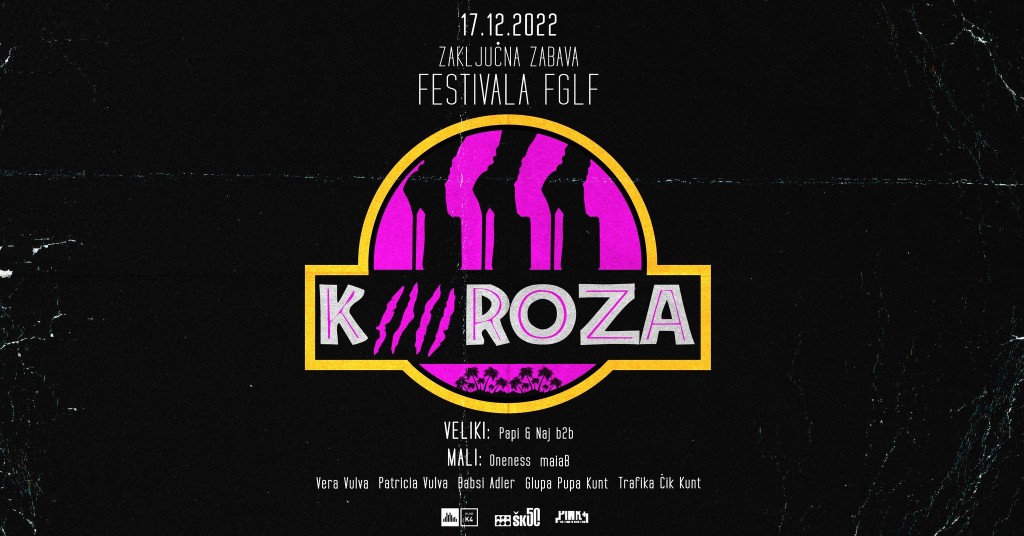 ENG: K4 Roza offers you the chance to save your soul and dance in to the decadence. Sensuality, passion and exuberance awaits you.
Arena:
Papi & Naj b2b
Kraljice preobleke:
Babsi Adler
Vera Vulva
Patricia Vulva
Glupa Pupa Kunt
MC Trafika Čik Kunt
Bar:
maiaB
Oneness
VJ cute aggression
Artwork: Urša Čuk
---
KLUB K4
Kersnikova 4, Ljubljana
www.klub-k4.si // www.facebook.com/klubk4
STAROSTNA OMEJITEV / AGE LIMIT: 18+
VSTOPNINA / ENTRANCE FEE: 10€
INFO: info@klub-k4.si
GARDEROBA / LOST & FOUND
Društvo Škuc
Pink. The Underground
V njegovem objemu: https://www.facebook.com/events/1324885998258834/
OFF program: https://www.facebook.com/events/668479984875972/
Celoten festival: https://www.facebook.com/events/1799498250429037/
Celoten program (slo/ang): https://www.lgbtfilmfest.si/program