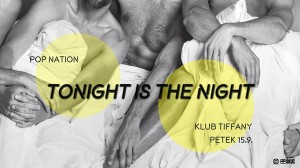 Tonight is the night
That you make me a man,
You said you'll be gentle with me
And I, I hope you will,
I'm nervous and I'm tremblin'
Waitin' for you to walk in
I'm tryin' hard to relax
But I just can't keep still.
Tonight is the night!
Tokrat malo drugače, saj se bomo zabavali predvsem na DISCO in
VOCAL HOUSE ritme.
____________________
____________________
Na petkovi zabavi vam ponujamo možnost anonimnega in brezplačnega testiranja na HIV, sifilis, hepatitis B in oralno gonorejo. Testiranje je namenjeno MSM populaciji.
Brezplačno testiranje vam omogočajo Društvo Legebitra , ŠKUC – Magnus in Klub Tiffany.
Program omogoča Ministrstvo za zdravje.
————————–————-