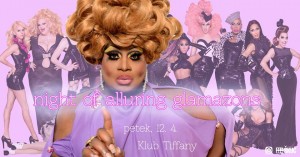 Tisto, kar vam najbolj prija. Tisto, kar potrebuje vaše telo. Po čemer hrepeni vaša duša. Vdihnite ekstravaganco petkovega večera in odmislite naporen vsakdan. Razvajajte se z dražljivimi skrivnostmi, ki jih ponuja klub Tiffany. Prepustite se. Senzualni glasbi. Brhkim hostesam. Transformirajte se in v sebi prebudite glamazonično bojevnico.
ENG:
Are you a creature with an overdeveloped sense of beauty, glamour, and fashion? Do you worship prestige, enchantment and delicacy?
Stop right there Miss sexy in the city! Night of alluring glamazons is a thing for you. Let's work that sexy body and dance the night away.
Sing it! Dance it! Love it!
Klub Tiffany – najbolj queer zabava v mestu.
____________________
▲ DJ PAPI ▲ 12.4.2019▲
____________________