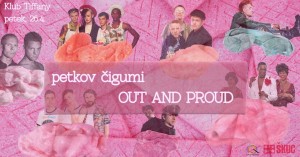 Petkov čigumi – Out and proud je poklon vsem pionirjem_kam, ki so spremenile_i podobo glasbene in popularne kulture.
LGBTQ+ glasbenice_ki so spremembe zahtevale_i že od dvajsetih let prejšnjega stoletja.
Bessie Smith je o istospolnih razmerjih prepevala že pred skoraj stotimi leti, veliko preden je Frankie Goes to Hollywood svetu sporočil, naj se sprosti z Relax.
Petkov parti je hvalnica umetnicam_kom, ki so s svojo glasbo ubirale_i drugačne poti in prerasle_i v ikone.
Legendarni Freddie Mercury, Erasure (Andy Bell), Culture Club (Boy George), Soft Cell (Marc Almond), Sylvester, Divine in Dead or Alive, skupine, kot so Bronski Beat, The Scissor Sisters, The XX, The Petshop Boys do sodobnejših imen, med njimi Frank Ocean, Beth Ditto, Rufus Wainright, Honey Dijon, Adam Lambert in Years&Years – vse to so osebe, ki so pustile neizbrisen pečat. Bodite tudi ve_i ponosno outkrite_i. Bodite Tiffany!
Več: TUKAJ