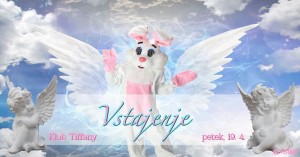 19 Pod noč tistega dne, zadnjega v tednu, ko so bila tam, kjer se je pederjad zadrževala, vrata Tiffanija iz veselja do vstajenja na stežaj odprta, je prišla Divine, stopila mednje in jim rekla: »Kamagra vam bodi!«
20 In ko je to rekla, jim je zapela You think you're a man. Pederjad se je razveselila, ko je videla Gospo.
21 Tedaj jim je Divine spet rekla: »Zabava vam bodi! Kakor je Judy Garland mene poslala, tudi jaz vas pošiljam.«
22 In ko je to izrekla, je dihnila vanje in jim dejala: »Prejmite Svete Sokove!
23 V "grehu" je odrešitev!
Sing it! Dance it! Love it!
Klub Tiffany – najbolj queer zabava v mestu.
Več o dogodtku: TUKAJ