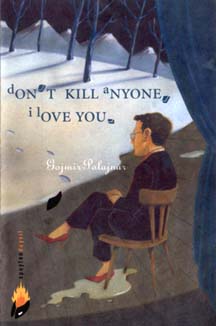 V začetku aprila bo izšel angleški prevod romana Gojmirja Polajnarja "Ne ubijaj, rad te imam".
Prevod bo izšel pri založbi Spuyten Duyvil v New Yorku, v prevodu Aarona Gilliesa in lekturi Lairda Hunta, z naslovom Don't Kill Anyone, I Love You.
Roman lahko naročite v mnogih spletnih trgovinah, med drugim na amazon.com.
Iz ocen / From the reviews and blurbs:
- Doug A. Powell, author of Tea and Lunch:

Polajnar takes all of the social institutions – science, religion, the state – puts them in a vise, and twists. What emerges is a clever and compelling tale, full of music, theatre, and delicious sex. It's like the writing George Orwell might have done if he hadn't had that big stick up his ass.
- Jim Dwyer, Library Journal, 2001:

This rather sordid tale of AIDS, Ecstasy, bisexual promiscuity, hypocrisy, bureaucracy, and betrayal should help change the American image of Slovenia as a primitive backwater, but it could hardly be what the Ljubljana Chamber of Commerce had in mind… Don't Kill Anyone, I Love You could find a niche audience, especially among younger gay and bisexual readers.
- Kevin Killian, author of Little Men:

Start with the poetic lyricism of a Mary Butts or Djuna Barnes, in which chic modernism is continually punctured by intimations of a cruel and beautiful ancestral past. Add in the shock value of something like Less Than Zero, a nihilism so deep we are surprised the characters survive from page to page. Then you'll almost be ready for the world of Gojmir Polajnar and his wonderful first novel. The abrupt narrative zoom cuts, the rapidfire switching of point of view, are dizzying, cinematic, designed to bring young Slovenia, in all its anarchic splendor, to trembling fiery life. Polajnar moves quick, and he slices deep: get on his back or get out of his way.
- Bruce Benderson, author of User:

Polajnar, from Slovenia, writes from a giddy post-Communist perspective. He leads us on a wild post-ideological search for sexual identity, where a man-hungry cabaret legend; two bisexual hunks; a treacherous, brainwashing researcher; and a closeted bureaucrat claw their way in and out of love. A bawdy, rollicking, inventive comedy of manners.
- Aaron Shurin, author of The Paradise of Forms:

This is a modern tale with a medieval, fabled air, in which events transpire almost beyond the characters' intentions or will. In the background one feels the remnant pressure of East European social and scientific fascism, but they're countered, here, by a freewheeling erotics that's pliable, permeable, maybe even mutable – and it just may take gender with it. A kind of glamor hangs off the characters, and their wiser bodies are legends of their own telling. Love is in the air in the form of lust you could croon (they do), as if longing had it's own melodic line. Polajnar lets our former century's shadows darken the outline, but the new one seems ready to kick things apart. The haunting is lean and quick: a neat and elegant trick.
- Tomaž Šalamun:

This book is a serene and speedy whirlpool. It reminds me of the baroque golden altars with enormous ears, found in Slovenia and Chile at their highest pitch.
- Aleš Debeljak, author of The City and the Child and Dictionary of Silence:

The novel Don't Kill Anyone, I Love You by Gojmir Polajnar is one of the more openly gay fictions to have recently appeared in Slovenia… it succeeds in presenting us with a stylized testimony of pain and longing… and a fractured glimpse of the universal human condition.
- Andrej Blatnik, author of Skinswaps:

Weird scenes inside the Alpine mind… If you don't quite grasp the term 'bizzare', check this book out!
- Amelia Kraigher, Zofa nb. 12, Ljubljana, April 1999:

A real breath of fresh air on the Slovene novel scene. I suggest that you give yourself over to this first effort without restraint. You might discover something about yourself that you never knew before.
- Mihael Bregant, Mladina nb. 7, Ljubljana, February 15, 1999:

The first in Slovene literature to make the park near the railroad station known as a gay ruising area, the first in which people drug themselves to the absolute with ecstasy, the first in our literature to quote the names of individual tablets.