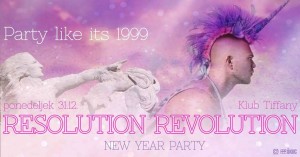 The champagne is chilling
and we hope you are willing
to be our guest
at a New Year's Eve Fest!
Leto je naokoli, Madonna pa še vedno ni izdala novega albuma. Vendar naj vas to ne potre. Raje se nam pridružite na Tiffanijevi veliki novoletni zabavi, kjer boste pozabili na tegobe sveta.
Zadnjo zabavo v letu bomo spretno prepredli z bisernim glasbenim izborom naših hišnih didžejev in pozitivno energijo, ki jo boste lahko ponesli s seboj v leto 2019.
Sing it! Dance it! Love it!
Klub Tiffany – najbolj queer zabava v mestu.
Več o dogodku: TUKAJ